Mumia Abu-Jamal
---
My name is Mumia Abu-Jamal ... I've been on death row since July of 1982 - in fact, I've been on several death rows in Pennsylvania, in the United States of America. Despite my penal status I'm a writer, a journalist, a columnist, and a professional revolutionary. -- Mumia Abu-Jamal
How many people can brag - and I use the term with a little humor - about having an FBI file from the time they were fourteen. -- Mumia Abu-Jamal
They want me to die alone - silently. -- Mumia Abu-Jamal
If Mumia Abu-Jamal has nothing important to say, why are so many powerful people trying to kill him and shut him up? -- John Edgar Wideman
Mumia is in prison on Death Row because he refused to stop telling the truth, because he wouldn't stop exposing the injustice and treachery of this system, and we ain't gonna sit back in silent frustration and watch them silence him permanently. We ain't gonna do it. We ain't gonna do it. We gonna fight with everything we got to save our brother and bring him home and make that a beginning. -- Ramona Africa
Under any government that imprisons any man unjustly, the true place for a just man is also prison. -- Henry David Thoreau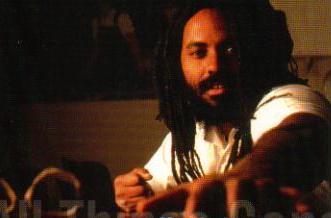 3 June 1995, one day after he had been served a death warrant, Mumia Abu-Jamal was served a 'write-up', a misconduct report. The 'crime' for which the write-up was served was that Mumia Abu-Jamal had engaged in a 'business or profession', in this case he had acted as a journalist, or to be more specific had exposed the conditions within prison. Even worse, he had told the truth.
Mumia Abu-Jamal:
No one - not a cop, nor a guard - can find one lie in Live From Death Row; indeed, it is precisely because of its truth that it is a target of the state and its minions - a truth they don't want you to see.
Mumia Abu-Jamal goes on to say:
Consider: Why haven't you seen, heard, or read anything like this on TV, radio, or in the papers? Newspapers, radio, and TV are increasingly the property of multinational corporations or wealthy individuals and therefore reflect the perspective of the rich and the established, not the poor and powerless.
As punishment for a crime, we lose some of our rights. We may lose our freedom, the right to vote, but we should never lose our dignity as human beings. The US Constitution grants freedom of speech, freedom of the press. Mumia Abu-Jamal has been denied the right of free speech, we have been denied the freedom of the press by being denied the opportunity to hear what he has to say.
Mumia Abu-Jamal has been punished for his writings since the age of fifteen.
Steve Wiser:
Mumia is, in reality, a prisoner of conscience. Long before his arrest in 1981 - from his teen years in the Black Panther Party to his career as a radio journalist - his commitment to the ideals of honesty and fairness, his tireless attempts to unmask the lie of governmental 'justice', cost him his freedom. Tragically, they may cost him his life.
Born 24 April 1954 Wesley Cook, Mumia Abu-Jamal, author, journalist and inmate of death row, is one of America's most powerful outspoken voices against injustice. Seen by the State as a dangerous revolutionary who must be silenced, he has been incarcerated for the last seventeen years.
Mumia Abu-Jamal was born in Philadelphia where he grew up. The name Mumia was given in High School, when he took an African name for his Swahili studies. The Arabic, Abu-Jamal, meaning Father of Jamal, cane later, Jamal was his first born son.
Mumia's first introduction to politics was in his teens when he and a few friends attended a George Wallace presidential rally. They shouted slogans and raised their fists in a black power salute. To their relief they were thrown out, but their relief was short lived when they were set upon outside by a gang of white thugs. Rescue seemed at hand when the Police were spotted, but their 'rescuers' joined in the assault, kicking and beating. Mumia was kicked in the face.
Mumia Abu-Jamal:
I have been thankful to that cop ever since, for he kicked me straight into the Black Panther Party.
Before joining the Panthers, whilst still at high school, Mumia ran a campaign to have the name of his high school changed to the Malcolm X High School.
Mumia became a founder member of the Black Panther Party in Philadelphia and Minister of Information (fall 1968). Mumia filed reports from New York and other cities, but was mainly based in Philadelphia. For a time he worked in Oakland, California, on the staff of the party's newspaper. The Black Panthers were to give Mumia a good grounding in radical politics and it was where he cut his teeth as a journalist. When the Panthers began to tear themselves apart, Mumia left.
Mumia Abu-Jamal:
The prospect of fighting one another sickened me. 'I didn't join the BPP to get involved in goddam gang warfare!' I thought angrily to myself. 'Shit! I could have stayed in North Philly for this dumb shit!'
Mumia's spell in the Black Panthers, as did his work as a journalist, mainly radio, as the 'voice of the voiceless', brought him to the attention of the FBI and the local Philadelphia Police. At one point the FBI tried to frame him for a murder, it was only his work record that enabled him to walk free.
The FBI began amassing a 600-page file on Mumia Abu-Jamal when he was a 15-year-old high school activist. The FBI added his name to the National Security Index and the ADEX index of those persons to be rounded up and interned in a national emergency.
Mumia Abu-Jamal exposed many cases of Philadelphia police brutality.
Rosemari Mealy, one of the founders of the Black Panthers in Philadelphia:
In 1969 there was a major incident which intensified the work of the Party, and that was the killing of a mentally retarded Black youth by a notorious cop named Bushwinger on 15th and Oxford Street. The young Lieutenant of Information [Jamal] spoke to the murdered youth's family and began to write in such a prolific manner of this and other wrongdoings of the Philadelphia police (having himself been a victim of their brutality).
Mayor Rizzo, at a press conference following a shoot-in by the Police at MOVE headquarters in Powelton Village, to a question put by Mumia Abu-Jamal:
They believe what you write, and what you say, and it's got to stop. And one day, and I hope it's in my career, that you're going to have to be held responsible and accountable for what you do.
Mumia's reporting of radical issues, especially his coverage of MOVE, his refusal to compromise, eventually caused him to lose his job as a radio journalist. He then took up work as a night time taxi driver to support his family.
Mumia was awarded an Armstrong Award for excellence in radio journalism. Since his imprisonment he has written two books, more than 420 columns, and produced numerous audio recordings.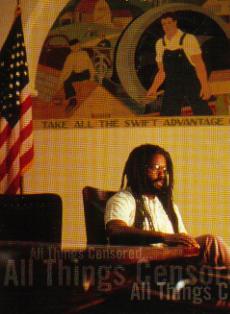 It was whilst out driving his cab, on the night of 9 December 1981, Mumia was shot and beaten by the Police, and later charged with the murder of Officer Daniel Faulkner. Mumia had been found slumped on the street, shot and dangerously wounded, only feet away from the dead Officer Daniel Faulkner, who had died of gunshot wounds. Mumia remained in critical condition for a period of time following emergency surgery. None the less, his case was rushed to trial within six months. After announcing that he would defend himself, Mumia was given just three weeks to prepare his case for trial. Mumia was brought to trial June 1982, and was sentenced to death 3 July 1982.
Following the shooting and arrest, the Philadelphia Inquirer ran a headline: The Suspect Jamal: An Eloquent activist not afraid to raise his voice. The story described him as a 'gadfly among journalists and easily recognizable because of his deadlock hairstyle, revolutionary politics and deep baritone voice.'
The West often criticises, and with good cause, pariah states like Turkey and Malaysia for their lack of justice, but in the case of the US, it should clean up its own back yard before it criticises others. The trial of Mumia Abu-Jamal was a travesty of justice.
Mumia Abu-Jamal was denied the opportunity to object to jury members, denied the opportunity to represent himself. Provided with an incompetent lawyer who did not want the case. For pre-trial expenses the court allocated only $150 to the defence for the investigation of the case despite the fact that the police investigators had conducted more than 125 witness interviews. Mumia Abu-Jamal was absent from court for most of the trial for insisting on his right to self-representation. He was denied live transmission of the court room and transcripts of the proceedings.
The constitution guarantees the right to effective legal representation, though in practise it is the wealth of the defendants that determines the competence of their defence attorneys.
A common law right is trial by jury, trial by ones peers. There was not a single Black face in the jury. The jury included a man whose best friend was a former Philadelphia police officer on disability after being shot while on duty, an alternate juror whose husband was a Philadelphia police officer.
Eleven qualified African-Americans were prevented from being on the jury panel by peremptory challenges from the prosecution. An illegal practice that has recently been revealed as having been taught to Philadelphia prosecutors in a special training video. The manner in which Black jurors were purged from the jury pool is a violation of international law as established by the International Convention on the Elimination of All Forms of Racial Discrimination (to which the United States is a signatory).
The 'facts' not disputed are police officer Daniel Faulkner was shot on the street, 4 am 9 December 1981, after having stopped Mumia's brother's car and beating his brother with a flashlight. Mumia arrived on the scene moments later, and appears to have been shot by Faulkner as the bullet found in his body matched that of Faulkner's gun. Mumia and Faulkner were found on the ground not far apart.
Mumia was taken to hospital seriously injured, where he remained in critical condition for a period of time following emergency surgery. It was claimed by a female security guard at the hospital, a crucial witness in the prosecution case, that Mumia openly confessed to everyone within earshot that he had shot the policeman, adding for emphasis, 'I hope the motherfucker dies.' The surgeon who dealt with Mumia on the spot said he was to weak to speak. The police officer who took Mumia into custody and stayed with him stated in his written report that Mumia remained silent through the entire time he was with him. His testimony was not produced in court. The officer was unable to give evidence as he was 'on vacation'. A defence request for an adjournment to enable the witness to be called was refused. It was learnt later that Officer Wakshul, who wrote in his report that Jamal had made no statement at the hospital emergency, 'the defendant made no comment', was sitting at home and was available.
Priscilla Durham (who was a friend of the deceased officer) suddenly remembered the 'confession' two months after the event. She allegedly told her supervisor at the time, who also seemed to have not told anyone else or made a written note, and was not available for cross-examination in court. The event that jolted the memory of Priscilla Durham was several police officers suddenly recalling the 'confession', and their memories were jolted by Mumia, two months later, filing charges of police brutality for the beating he received on the night of the killing.
The key prosecution witness was a prostitute with a long history of arrests. She testified that she saw Mumia shoot Faulkner by running up behind him, shooting him once, and then firing again after he fell to the sidewalk. Her testimony contradicted previous statements and contradicted that of other witnesses. Another prostitute who was working the same area that night testified she was offered the same same deal as the prosecution witness: immunity from arrest by the police in return for her testimony against Mumia.
Cynthia White, the prosecution star witness, is a convicted prostitute. No one was able to place Cynthia White at the scene, including her friend Veronica Jones, another prostitute. Cynthia White has stated she did not see Mumia with a gun or notice which hand he allegedly used to shoot with.
Cynthia White was arrested in 1987 (five years after the trial) on armed robbery charges. Philadelphia homicide detective Douglas Culbreth appeared in court and asked that Cynthia White be released without posting money because she was 'a Commonwealth witness in a very high profile case.' Cynthia White subsequently failed to show up for her court date and has since disappeared.
Veronica Jones, who now testifies in support of Jamal, was threatened with the loss of her children if she did not support the police story.
Of the three remaining witnesses, all male, two said they saw Mumia run to the scene where the police officer was beating his brother. Both testified that gunfire erupted shortly after Mumia arrived, but neither saw Mumia shoot Faulkner. The third witness, a cab driver who had pulled up behind the police car, was closest to the shooting. He told police that a gunman fled the scene, before more police arrived, by running to where an alleyway intersects the sidewalk some thirty yards away. The gunman was a large, heavy man. In court, he testified the gunman took just a few steps and then sat down on the curb at the precise point where the police found Mumia, slumped over and bleeding profusely from his wound.
On the night of the incident, cab driver Robert Chobert said the man who shot Officer Faulkner ran down the block. However, at the trial he said the man 'slumped down on the curb 10 feet away'.
Jeff Scanlon, a white businessman, testified that he saw the defendant standing over the body firing. However, on the night of the incident in a written statement to police he described the 'assailant' as a heavy-set man with an Afro-hairstyle. Mumia Abu-Jamal wears long dreadlocks.
Dessie Hightower, a Black man, testified that Faulkner's gun was still in his holster when he was put into a wagon on route to the hospital. He witnessed the brutal beating of Mumia and the 'accidental' ramming of his head into a pole. He saw a man run away from the scene in dreadlocks.
A witness not called, a local resident, reported seeing a man flee the scene in the same direction as reported by cab driver Robert Chobert on the night. As did a third prostitute who observed one or two men running from the scene, but recanted her story after lengthy questioning by the police. In total, four witnesses situated in four separate locations on the street, none of whom knew each other or Mumia Abu-Jamal, reported seeing a gunman flee the scene, and all saw him fleeing in the same direction.
A key eyewitness, not called, was William Singletary. He saw the whole incident and has testified that Mumia Abu-Jamal was not the gunman. Singletary, a local businessman, was intimidated by police when he reported this, and subsequently fled the city.
William Singletary's testimony (11 August 1995) describes how police tore up his written statement, and forced him to sign a different statement which they dictated.
The prosecution case was that Mumia first shot Faulkner, wounding him slightly. When the officer returned fire and hit him, Mumia, angered, stood over Faulkner, who had since fallen to the sidewalk, and shot him in the face, killing him instantly. None of the witnesses saw this version of events, none even saw Mumia get shot.
Detective William Thomas, 15 year veteran, who was in charge of the whole investigation and described himself as the hub of the wheel that all the spokes fed into did not carry out any tests to determine if Mumia or Faulkner held a weapon that night.
A bullet first reported by the medical examiner as being in two fragments and of .44 calibre, reconstructed itself together and became one bullet of .38 calibre 'consistent' with Mumia's gun. The prosecution ballistics expert claimed he could not match the bullet recovered from Faulkner's body to Mumia's gun due to the fragmented nature of the bullet. A copper bullet jacket was found at the scene. The police ballistics expert testified that the bullets in both Faulkner's gun and Mumia's gun did not have copper jackets. The defence was unable to provide a ballistics expert due to lack of funds.
The Medical Examiner wrote in his report 'shot w/ 44 cal', the gun owned by Mumia Abu-Jamal was .38 calibre. Mumia was carrying a legally purchased gun on his job as a late night cab driver because he had been robbed several times.
It was learnt later that the police never tested Mumia Abu-Jamal's gun to see if it had been recently fired, never tested Mumia's hands to see if he had fired a gun, had no proof that Mumia's gun was the fatal weapon, and have lost a bullet fragment removed by the medical examiner.
The judge, Albert Sabo, has sentenced more people to death than any other sitting judge in the United States. Six former Philadelphia prosecutors have sworn in court documents that no accused could receive a fair trial in his court.
Judge Sabo rejected an appeal on the grounds that the original trial had been flawless, and even had one of the defence attorneys taken out in handcuffs.
Since his conviction and death sentence in 1982, Mumia Abu-Jamal has been held 22 hours a day in a solitary cell. The FBI monitor all his visitors.
The fastest growing industry in the US, outside of Internet stocks, is the growth in prisons, the storage of live, human carcasses and the use of slave labour. Unlike Internet stocks, this is real growth not a South Sea Bubble illusion, unlike Internet stocks, this is employing large numbers of unskilled people, generating real profits, and providing a source of cheap labour for Corporate America without the trouble of going to some Third World authoritarian state.
Philadelphia is a cesspit of police corruption and brutality, racists and corrupt political patronage. This is the city of Frank Rizzo, former racist police chief and mayor, who took pleasure in attacking Black school children and personally arresting Black leaders like Malcolm X. This is the city where representatives of the police, Fraternal Order of Police (FOP), were convicted in a Federal Court on charges of racketeering.
The reign of Mayor Frank Rizzo finally came to an end. He was replaced by Wilson Goode, then Ed Rendell (1991 elections). Rendell served as District Attorney alongside Mayor Rizzo. Rendell was District Attorney in 1978 when the police first attacked MOVE (beating and kicking MOVE members on live TV); Rendell was District Attorney in 1982 when Mumia Abu-Jamal was assigned a place on death row; Rendell was District Attorney in 1985 when police dropped a fire-bomb on the MOVE house killing 11 people (including 5 children) and burning down a Black neighbourhood. Rendell can't afford to let Mumia Abu-Jamal live, not if he wants to stand as state governor or run for Senate, he has too many skeletons in the cupboard that will return to haunt him if Mumia Abu-Jamal mounts a successful appeal.
National Public Radio commissioned Mumia Abu-Jamal to produce 12 3-minute radio commentaries. The commentaries were recorded, but never transmitted. NPR caved in to political pressure. The commentaries subsequently appeared in print as Live From Death Row (1995), with additional material. It is easy to see why the State wanted to silence Mumia, the commentaries are a searing indictment of the brutality of the US prison system. A prison system that has more in common with Turkey than a supposedly enlightened Western country, a prison system where Blacks are handcuffed to a metal grill and beaten to a pulp by their guards.
The Fraternal Order of Police attempted to have the book banned, and members of the state legislature called for seizing any proceeds from the book. When Sergeant Stacy Koons, in prison for beating Rodney King, published his book, FOP did not object.
Mumia Abu-Jamal was denied visitors and phone calls as punishment for writing Live From Death Row.
The federal district court in Pittsburgh ruled that Pennsylvania had illegally singled out Mumia Abu-Jamal, when they barred the press from interviewing him in retaliation for his book. A few days after this 1996 ruling, the prison system instituted a new rule banning the media from recording or photographing any prisoner in the state system.
Mumia Abu-Jamal's second book Death Blossoms (1997) is a series of reflective essays and poetry, that in part map out his own spiritual journey.
Mumia Abu-Jamal has also managed to record a series of radio commentaries for Prisoner Radio/Quixote Center which are also available on CD as All Things Censored. These were recorded before Pennsylvania banned all recording of Mumia Abu-Jamal.
In 1997 Pacifica Radio's program 'Democracy Now' programme broadcast a series of Mumia Abu-Jamal's recordings. These were to have been carried in Philadelphia on WRTI, the radio station of Temple University. FOP protested. WRTI cancelled the show the day it was to go on air.
January 1999, Rage Against the Machine and three other bands rented the Continental Arena in East Rutherford, New Jersey, to hold a benefit concert for Mumia Abu-Jamal. Governor Christy Whitman expressed public regrets that the program could not be legally banned, and called on people to boycott the performance. The concert was a sell-out.
Not content with silencing Mumia Abu-Jamal, not content with pushing for a speedy execution, there is now a growing smear campaign. Vanity Fair recently participated in that campaign when it published a lengthy article by Buzz Bissinger (August 1999). Buzz Bissinger is publicist for Philadelphia Mayor Ed Rendell. The major revelation in the scurrilous article was yet another 'confession' by Mumia Abu-Jamal. An echo of the 'confessions' reported by Philadelphia officers two months after the event when their memories were jogged by Mumia filing a complaint for police brutality, only this time, prison visitor Philip Bloch waited ten years to reveal the 'confession'. Apparently his conscience had started to trouble him. Bloch became convinced of the guilt of Mumia Abu-Jamal when he allegedly confided in him his regret at killing Officer Daniel Faulkner.
Mumia Abu-Jamal:
Once again we hear about a so-called confession, but instead of two months later this comes over a decade later. We don't hear it from a priest, from a lawyer, or from a personal friend but from an official Visitor of the Pennsylvania Prison Society; over ten years later. A lie is a lie, whether made today or ten years later. But I suppose Mr Bloch wanted his fifteen minutes of fame in which case I hope he has received it. I find it remarkable that this rumor turned lie was never brought to my attention by the author, by Mr Bloch himself or by Vanity Fair magazine which never contacted me. Welcome to snuff journalism.
I look forward to the state producing this witness, Mr Bloch, after I am granted a new trial! The only thing worse than 'a forgotten confession' is one allegedly born on the 'false wings' of harassment. If ever one needed proof of the state's desperation here it is. I thank Vanity Fair, not for their work but for stoking this controversy, because controversy leads to questioning and one can only question this belated confession.
A growing number of individuals and organisations are calling for justice for Mumia Abu-Jamal - National Black Police Association, National Lawyers Guild, African National Congress, Amnesty International, European Parliament, Bruderhof (who act as Mumia's spiritual advisers), Stephen Jay Gould, Rev Jesse Jackson, Coretta Scott King, Danielle Mitterrand, Archbishop Desmond Tutu, Nelson Mandela.
In State sanctioned executions, the United States is in a league of its own, together with other major violators of human rights, China, Saudi Arabia and Iran.
If the State succeeds in executing Mumia Abu-Jamal, he will be the first Black revolutionary to be legally executed in the United Sates since the days of slavery.
---
Web Resources
---
References
Anon, Resource Book on the case of Mumia Abu-Jamal, Refuse & Resist!, 1998
Mumia Abu-Jamal, Live From Death Row, Avon Paperbacks, 1996
Mumia Abu-Jamal, Death Blossoms: Reflections of a Prisoner of Conscience, Plough Publishing House, 1997
Mumia Abu-Jamal, All Things Censored, Prison Radio Project, 1998 {16 censored radio commentaries, 74 min CD}
Daniel Burton-Rose, Dan Pens & Paul Wright (eds), The Celling of America, Common Courage Press, 1998
Nick Cohen, Corporate hostility, The Observer, 23 April 2000
Karl Evanzz, The Judas Factor, Thunder's Mouth Press, 1992 [Nia, 1998]
Andrew Gumbel, $100m US jail has everything - except prisoners, The Independent on Sunday, 15 August 1999
Rev Jesse Jackson, Legal Lynching, Marlowe & Company, 1996
Mark Lane & Dick Gregory, Murder in Memphis: The FBI and the Assassination of Martin Luther King, Thunder's Mouth Press, 1993
MOVE, 20 Years on the MOVE, MOVE, 1996
Kenneth O'Reilly, Black Americans: The FBI, Carroll & Graf, 1994
Keith Parkins, Intelligence Services Unaccountable and Out of Control?, January 1999
Keith Parkins, A Brief History of MOVE, August 1999
Stuart Taylor Jr, Guilty And Framed, The American Lawyer, December 1995
Leonard Weinglass, Race for Justice, Common Courage Press, 1995
---
Literature ~ MOVE
---
(c) Keith Parkins 1999-2000 -- April 2000 rev 7