Eating out in Protaras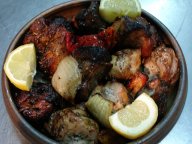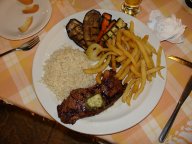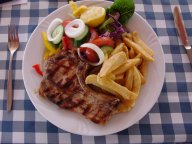 With a choice of junk food from US corporations, through to authentic Cypriot cuisine, with everything in between, from Japanese to Chinese to Mexican to Italian, one is obviously spoilt for choice for dining out in Protaras.
Starting at the Paralimni end of Protaras with the Sfinx Bar on the corner (the coolest bar in town) we have McDonald's. Is there a place in the world not untouched by their awful food? It is hard to believe anyone eats there when there is a good choice of food elsewhere. Obviously for sad English tourists who have absolutely no taste in food. Watch the film Super Size Me (available on DVD) for the downside of eating at McDonald's!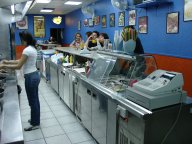 A little further down the street (opposite Odessa Hotel), Delicious – The Inn Fast Food, the place for real fast food. Open until the early hours of the morning, it is often packed at 2am with an amazing atmosphere.
In the centre of Protaras (between Sunrise Beach Hotel and Silver Sands Beach Hotel) No 1 Restaurant. Very good on grills, excellent pancakes. A good place to eat. Very popular at weekends with Cypriots.
A little further down the street past No 1 (next to Friends Pub, opposite Cheers Pub) is a small ice cream parlour open until the early hours of the morning. Excellent local ice cream.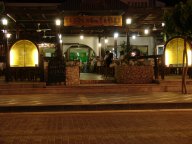 At the far end of Protaras, just before the street curves round to the main road, Nicolas Tavern. Nicolas Tavern is an open-air, traditional Greek-Cypriot taverna, the place to eat in Protaras, especially if you want to eat traditional Greek-Cypriot food. Try the kleftico, lamb cooked for several hours in a traditional wood-fired clay oven, served in an earthenware dish with vegetables. Look in at around 11am, and you will see the clay oven being fired with wood logs. Nicolas Tavern also has a good selection of local wines from small family vineyards and wineries.
The food in hotels tends to be good, making a difficult choice. Book bed and breakfast, then you can choose each night, eat in or dine out.
Avoid those hotels offering at bargain prices 'all inclusive'. There is no such thing as a free lunch. Something has to give. You may able to pig yourself silly, but is it worth it if it is not worth eating?
---
Cyprus ~ Protaras ~ Cypriot cuisine
---
(c) Keith Parkins 2006 -- September 2006 rev 1