Nicolas Tavern
We were in Protaras 4 weeks ago and ate at Nicolas Tavern 5 nights out of 7, and for 3 of those 5 nights we both had kleftico. We've been all over Greece but Nicolas kleftico is the best we've ever had, anywhere. -- Retsina, posted Holiday Truths website 9 June 2006

There is Nicolas, then there is the rest. -- TripAdvisor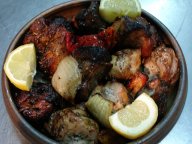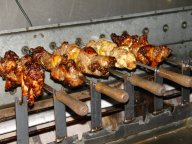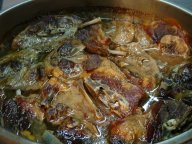 Located at the Ayia Napa end of Protaras near Capo Bay Beach Hotel, Nicolas Tavern is a traditional Greek Cypriot taverna serving Cypriot cuisine - fish, meat and vegetarian dishes, meze, kleftico, grills, home made cakes and sweets, fresh fruit, organic and regional wines. Food cooked very very slowly for several hours in an authentic wood-fired clay oven. Occasional live music.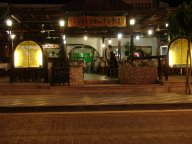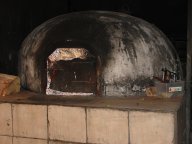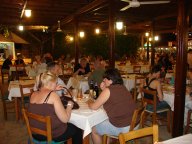 Menu taster ....
tzatziki with pitta bread yoghurt, cucumber, mint, garlic
koupepia – dolmadhes stuffed vine leaves with rice, pork mince meat and spices
meat meze salad, tzatziki, halloumi, meat balls, stifado, dolmadhes, pastitsio, chicken and pork souvla, clay-oven pork and lamb, served for two or more persons
kleftico lamb cooked very very slowly for several hours in a wood-fired clay oven, served in a clay pot with vegetables
ttavas cubes of lamb and beef cooked very very slowly for several hours in a wood-fired clay oven, served in a clay pot with marrows, tomatoes, onions and cummin seeds
stifado cubes of beef with onions and spices in red wine and vinegar served in a clay pot
keftedes Cypriot meatballs – deep-fried pork mince meat, potatoes, chopped onions, parsley and spices
afelia pork marinated in wine and coriander seeds
souvla pieces of chicken or pork spit-roasted
vegetarian meze local and Mediterranean vegetarian specialities, salads, mushrooms, halloumi cheese, served for two or more persons
fish meze over ten types of fish and sea food including taramas, hummus, savoro fish, prawn, crab salad, calamari, fried fish, octopus, oven-cooked fresh local sea bream etc, served for two or more persons
sword fish grilled fresh Mediterranean swordfish
tsippoura grilled fresh local sea bream from the catch of the day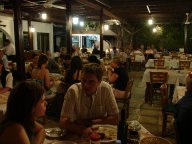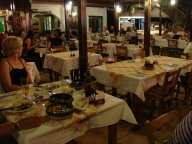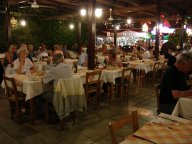 Wines from local family vineyards and small wineries ....
Nicolas house wine served by the carafe from a local family winery
Orestes winery in Pelendria
Nicolaides winery in La Noyera
Kathikas winery in Kathikas
Organic wines from Ayios Ambrosios in Ayios Ambrosios
Linos winery from Omodhos
Avacos winery from Statos
Brandy sour, a local cocktail. Keo, the local lager.
Nicolas Tavern kleftico has been described as 'kleftico to die for'. With our specially selected lamb and traditional cooking methods, it melts in your mouth.
We take great pride in our food and cooking, every customer is special, whether it is your first time or one-hundredth time.
Please feel free to visit the Holiday Truths website and see what people have had to say about our Greek Cypriot cuisine, and of course feel free to give your own comments on our food and service.
Thanks to all our customers for making Nicolas Tavern Number One restauarant in Protaras on TripAdvisor.
We look forward to welcoming you to our restaurant. A culinary experience you will not forget.
Wedding parties catered for.
---
Cyprus ~ Protaras
---
(c) Keith Parkins 2005-2010 -- May 2010 rev 3