630 Squadron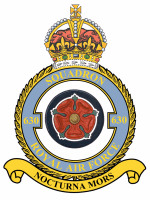 630 Squadron was formed on 15 November 1943 at East Kirkby from B Flight of 57 Squadron. Its Lancasters began operations almost immediately and for the remainder of the war it took part in the strategic air offensive against Germany. After some transport duties for a few weeks after the end of the war, the squadron disbanded.
630 Squadron was originally formed from 'B' Flight, 57 Squadron at East Kirkby near Spilsby, Lincolnshire, on 15th November 1943. They were equipped with Avro Lancasters.
From the night of 18/19th November 1943 until 25th April 1945, 630 Squadron took part in many major raids, including each of the 16 big raids made by Bomber Command on the German capital of Berlin during what became known as the "Battle of Berlin".
The first operation was on the night of 18/19th November 1943 when nine Lancasters took part in a bombing raid on Berlin.
The last bombing raid was on the night of 25/26th April 1945 when four Lancasters laid mines in Onions area (Oslo fjord off Horten).
Following April 1945, the squadron became involved in ferrying POWs back to Britain.
Although only in existence for 22 months, 630 squadron had earned its place in in RAF History. They flew a total of 2,453 sorties, dropped a total of 10,347 tons of bombs and laid approximately 800 sea mines in enemy waters.
Seventy members of the squadron won gallantry awards, but at a a very high cost, 59 Lancasters had been lost in action (another 11 had crashed).
630 Squadron disbanded on 15 July 1945.
---
Lincolnshire ~ RAF East Kirkby
---
(c) Keith Parkins 2006-2008 -- January 2008 rev 4