Avro Lincoln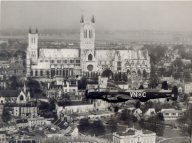 The Avro Lincoln, designed by Roy Chadwick, was the post-WWII replacement for the Avro Lancaster, also designed by Roy Chadwick.
The Avro Lincoln was in essence an upgrade of the Avro Lancaster, the four-engine heavy bomber used during World War Two. Like the Lancaster, the Lincoln had four engines, a twin tail fin and superficially the two planes look alike. The main difference was the two-stage supercharged Rolls-Royce Merlin 85 engines, a larger fuselage enabling more fuel and larger bomb loads. As a result, the Lincoln could fly higher and further than the Lancaster. The prototype Lincoln was assembled at Manchester's Ringway Airport and made its maiden flight from there on 9 June 1944.
The Lincoln entered service in 1945, too late to see any action during the Second World War. They were used in the 1950s in Kenya during the Mau-Mau insurgency and in Malaya during the Malayan Emergency. 12 March 1953, a Lincoln was shot down by a Soviet MiG-15 as it flew to Berlin on a training flight.
604 Lincolns were built. It entered service with the Royal Air Force, Royal Australian Air Force, Royal Canadian Air Force and Argentine Air Force
29 RAF Squadrons were equipped with Lincolns, including 44 Squadron and 50 Squadron at RAF Waddington in Lincolnshire.
The Lincoln was a stop-gap measure. The WWII policy of massed bombing raids was replaced by a single bomber flying deep into Soviet territory with a single nuclear bomb. This was the policy in the 1950s and 1960s using V bombers - Avro Vulcan, Vickers Valiant and the Handley Page Victor.
Only four Avro Lincolns have survived, none fly.
The Avro Shackleton and Avro Tudor are variants of the Avro Lincoln.
---
Lincolnshire ~ Avro Lancaster
---
(c) Keith Parkins 2009 -- February 2009 rev 0