Match Made at Stonebow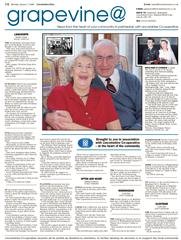 A couple who met in Lincoln on VE Day are celebrating their diamond wedding anniversary today (7 January 2008).
Harry and Mavis Parkins bumped into each other at the Stonebow as thousands of people swarmed on to the city streets for the 1945 celebrations.
Mr Parkins (83), who lives with his wife (78) in Washingborough, said:
I was a flight engineer at Fiskerton during the war on Lancasters.

I'd just got back from taking food supplies to the Dutch when the end of the war was announced. So on VE Day me and a mate thought we'd cycle to Lincoln. It took ages because people kept hugging us and pulling us into pubs for a pint.

I was drunk when I got to Lincoln and was standing at the Stonebow when I saw this American waving around like he'd won the war for us. It really annoyed me so I took one of our flags and stuck it on his back and the crowds started laughing. One girl said 'that's horrible, doing that to the American's.'

It was Mavis, we made a date and that was that.
The couple married at All Saint's Church in Monks Road, Lincoln, 1948.
During the day, Mavis and Harry received cards and presents from family and friends, including a card from the Queen and in the evening went out to dinner with close family.
A few days after celebrating their Diamond Wedding Anniversary, Harry and Mavis heard the sad news of the death of Sir Edmund Hillary. In the 1960s, Harry and Mavis dined with Sir Edmund. News of of conquest of Everest by Sir Edmund and Sherpa Tenzing was announced on the eve of the Coronation of Queen Elizabeth II. In what was seen as a snub not only to Sir Edmund and his family, but also to the people of Nepal and New Zealand, not a single member of the British Royal Family attended his funeral. [see Everest hero Edmund Hillary dies and Everest hero Hillary laid to rest]
---
With the exception of footnotes, reproduced from an original article published in the Lincolnshire Echo, errors and omissions corrected. [see Match Made at Stonebow, Grapevine, Lincolnshire Echo, Monday 7 January 2008]
---
Lincolnshire ~ Harry Parkins
---
(c) Keith Parkins 2008 -- January 2008 rev 1