Mediaeval Baebes in Concert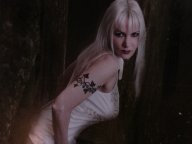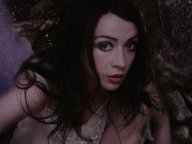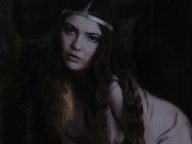 Mediaeval Baebes launched their latest album Mirabilis at a concert and party in London on the evening of Friday 19 August 2005.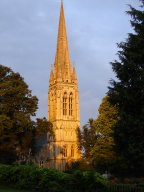 The concert took place at St Mary's Church in Stoke Newington, on the edge of Clissold Park.
St Mary's is a lovely church, built in the 1850s by Sir George Gilbert Scott. The spire was added in 1890. The 'new' church of St Mary's replaced the 'old' church built in 1563 by Sir William Patten. The 'old' church is the only surviving Elizabethan church in London, and one of the few surviving in the country.
In addition to being the launch of Mirabilis, the concert was also the launch of the N16 Fringe 2005. N16 Fringe is a summer weekend musical festival run by N16, a quarterly magazine of news, views and events distributed in Stoke Newington. N16 is the postcode for Stoke Newington.
St Mary's could not have been a better venue, excellent acoustics, which matched the excellent performance by the Medieval Baebes.
The Medieval Baebes are eight stunning females (there used to be twelve), accomplished singers and instrumentalists, backed by instrumentalists (for the album launch a drummer and acoustic guitar).
The Mediaeval Baebes repertoire is made up of arrangements of medieval/traditional material and medieval poems set to music composed by the band. The appeal of medieval music lies in its purity and simplicity. The emphasis by Mediaeval Baebes is on creating accessible medieval rock rather than trying to recreate an authentic sound.
At St Mary's the audience were held spellbound by the performance which consisted of a mixed repertoire of old and new, including songs from their new album Mirabilis.
[list of songs]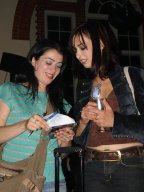 It is a pity the concert was not recorded for possible release as a live album.
On sale in the church Baebes memorabilia, including t-shirts, albums, songbook, posters and postcards.
Afterwards, there was a party at Abney Public Hall, but strictly no dancing by orders of the tossers at Hackney Council.
Located behind Booth's pizza and bar on Stoke Newington Church Street, Abney Public Hall is a community hall, recently restored from a 150-year-old church hall.
On a table in the middle of the hall were eight portraits of the individual Baebes (possibly available as postcards), propped up against one wall a large painting (available as poster) of the Baebes in a woodland setting.
Mirabilis (Latin) pre-Christian or pagan used in the medieval period to describe a supernatural force on the fringe of this world.
---
Music ~ Mediaeval Baebes
---
(c) Keith Parkins 2005 -- August 2005 rev 0