Diana - was it an accident or was she killed?
---
Repose en paix Henri
Tes amis ne sont dupes

"Rest in peace, Henri, your friends have not been fooled" -- words on floral tribute at the funeral of Henri Paul (English trans)
"One day I'm going to go up in a helicopter and not come back down" -- Princess Diana
The conspiracy theorists have been in overdrive. I make make no apology for adding to their output. I have a special reason for doing so - my theories pre-date the death of Princess Diana. About two years before her death a thought came into my mind that Diana would be killed. This would be no assassin's bullet as JFK or John Lennon, but an accident. I had in mind a skiing accident or a tragedy at sea. The thought must have lodged deep in my mind as it troubled me for weeks, then gradually faded away. Looking back I now see I must have had a premonition.
There can be only two reasons for her death, an accident or she was deliberately killed.
An accident can not be ruled out. Accidents happen to the best of us. Even if there was a plot to kill Diana, it could have been pre-empted by an accident.
If it was an accident, it still deserves explanation as all accidents have causes. I am not familiar with the road tunnel alongside the Seine, but I have to ask myself how did the driver lose control? Is there a sharp bend, did he hit something or skid, did the car have a mechanical fault (if so why?), was the driver drunk or in some way intoxicated? These questions can be answered by simple examination and investigation. Dodi's bodyguard is the key to many. The driver being drunk seems at odds with his reputation.
Accident or not, we may never know, but the whole affair has a distinctly uneasy and messy feel to it.
Mid-November 1997, two British Sunday tabloid newspapers published a survey that showed that a very high proportion of those surveyed felt the death of Diana was no accident and that she had been killed to silence her. The methodology used left much to be desired, but with a figure of 98% the results could not be easily dismissed and if nothing else showed the general feeling of disquiet and unease over the death of Princess Diana.
If not an accident, then part of a conspiracy, if so by whom, and for what reason?
Some of this I can answer by going back two years. My initial thoughts on this must have had a very strong impact as they haunted me for weeks and weeks, only very slowly did they fade away. I almost contacted Diana, but what could either of us have done?
The wildest of ideas can have their basis in reality. This is how creative thought occurs and scientific advances are made. A wild thought occurs, logic is used to build a bridge back to reality. If the bridge can be built, then we explore where it has taken us.
This I did, but first the premonition. Diana was to be killed, it wasn't to be an obvious murder but faked to look like an accident. How, what, or when I did not know? I constructed possible scenarios of a swimming or boating accident or possibly an accident on the ski slopes.
But why? Was there a rationale behind these thoughts?
Unfortunately yes. Diana was seen as a loose canon, a member of the establishment, but outside of the establishment, a danger to all concerned. Diana in her own words referred to her time as a member of the Royal Family as the "dark ages".
Diana herself reinforced and confirmed my own fears. In her now infamous interview, where she asked to be the Queen of Peoples Hearts, she talked of her fears and paranoia, that her phones were tapped and 'they' were out to get her. You don't have to be paranoid for them to be out to get you, but it helps.
Some years earlier when Andrew Morton's book Diana - Her True Story hit the streets it was met with universal derision and condemnation. Andrew Morton himself was viciously attacked. What was his crime? His crime was to let out the truth. Morton let it be known that his sources were close to the Princess, strong hints were dropped that the Princess approved. The Palace launched a search for the 'mole' who had briefed Morton, Morton had his office burgled, files rifled and a camera stolen. As events unfurled, especially Diana's infamous interview, it became clear that Morton was revealing the truth. The bombshell had yet to be dropped. A few weeks after her death, Morton revealed that the source for his book had been none other than Diana herself, she had supplied him with tapes and corrected the original manuscript.
Morton dropped his bombshell as he launched an updated version of his book. Once again the establishment went into overdrive to condemn Morton. In the US death threats were issued. Morton's timing may have been tacky, motivated more by greed than setting straight the public record, but if anyone had a right to publish a book on Diana it was Morton. This attempt at gagging is reminiscent of the secrecy surrounding the Duke of Windsor, all material on which is embargoed for 100 years.
Following her estrangement from Charles and the Royal Family, Diana was clearly seen as a danger. Would she spill the beans and cause permanent damage, striking at the very heart of the British Establishment. From now on it was Diana who was calling the shots, and she continued to do so right up to her death. She demanded, and got a multi-million pound divorce settlement. Things began to settle down.
Several months before her death, Diana seemed to grow in stature. It was as though she fully realised for the first time the power she had. Who but Diana could crook her finger and have Henry Kissinger at her side one day, and be seen comforting Aids victims or a woman in Bosnia on another. Her arms around Elton John at the funeral of Gianni Versace will be fixed forever in the world's psyche.
The President of the USA only thinks he has power, it was Diana who held the real power. The public reaction to her death showed to what degree her influence had spread across the world.

Several months before her death Diana became involved in the campaign to ban landmines. Hilary Clinton had been pushing hard, but got nowhere. Maybe for the very first time realising the extent of her powers Diana offered to help. Visits to Angola, and Bosnia, a well publicised gala in the States. Governments around the world fell into line, Clinton who had steadfastly opposed a ban had no choice but in bad grace to climb aboard the bandwagon before it left without him.
In a press interview following her Angola trip, Diana expressed shock at what she found, and that she had found new fulfilment as a champion of the fight to ban landmines, a crusade she hoped to take to trouble spots around the globe. Her response to critics was to brush their comments aside as 'merely a distraction' and vow not to change course.
A few days before her death Diana was reported by a French journalist (Le Monde) as regarding the position of the previous Conservative government as hopeless. These remarks were immediately retracted by Diana's staff at Kensington Place, the journalist steadfastly clung to her report. Why should the remarks be withdrawn? If Diana believed in her campaign, which clearly she did, then her remarks would have only been an honest assessment, if anything a gross understatement. To withdraw those remarks, which were seen as correct, would only discredit herself and her position.
Politicians who had been baying for her blood, grew ever more strident. What was this woman doing meddling in politics, why didn't she stick to old ladies and little children.
Two weeks before her death the pictures of Dodi al-Fayed and Diana started to appear. A thought went through my mind 'Oh no, she has just signed her own death warrant'. Two weeks later and the rest was history, Diana lay dead in Paris.
Mohamed al-Fayed, the father of Dodi, is the arch-villain of the British Establishment. For years he had been painted in the British media as an evil, cunning, corrupt Egyptian. Here was the man who with relative ease had bribed Members of Parliament and brought down the Conservative Government. The hatred was reported as mutual. Here was a man who had befriended Diana, another person outside of the establishment. Would they pool their resources, was there no depth to which this man would not go? Worse was to come. Looking to the future, would the man be present at the coronation of a future King as his step-grandfather? A future King, head of the Christian Church, defender of the faith, to have a Moslem as a half-brother? Would Diana follow her close friend's example, who had recently married a Pakistani cricketer, and turn into a Moslem? The establishment's worst nightmares were about to come true.
The source of the al-Fayed family wealth has oft been questioned and never satisfactorily answered. This was brought to a head by the bitter battle for control and ownership of Harrods. Mohamed al-Fayed has family links, through his ex-wife, to Adnan Khashoggi, a Middle East arms dealer and possible CIA asset.
This image of Mohamed al-Fayed portrayed in the British press was not that seen by the people who queued for many hours to sign the books of condolence, to them he was a man whose staff brought them food and drink whilst they patiently waited, a man whose son had brought their princess some happiness in her last days on earth, a man who had lost a much loved son, a man who their hearts and sympathy stretched out to almost as much as it did to their beloved princess.
Even the press backed off for a while, expressing their rather guarded sympathy for a man who had just lost his son. The truce was short lived however, no sooner was Diana buried than the dirt on al-Fayed started to reappear in the press.
Yes, it could have a been a very clever publicity stunt, to bring refreshments out, but if it was why did no-one else do it?
If it was murder, who did it, who hatched the plot?
This is not too difficult to answer. A shadowy, dark core at the centre of the establishment, accountable to no one and totally out of control.
Eisenhower was the first to speak of a military-industrial complex out of control. During the talks to defuse the Cuban missile crisis, Kruschev confessed of military forces outside of his control, JFK admitted of the same problem. Kruschev was removed as too soft, JFK assassinated and replaced by the corrupt Johnson who stepped up the Vietnam war. Nixon entered into detente with China and wound down the Vietnam War, shortly afterwards, at the height of his popularity he was brought down by Watergate.
The intelligence services destabilised, then brought down the Wilson Labour Government.
The intelligent services in the UK have been repeatedly exposed as incompetent and out of control. Unlike the US there have been no public enquiries into their activities, there is no public accountability and it is only in recent years that official acknowledgement has been given of their very existence.
Only weeks before the death of Diana, David Shayler, an agent of MI5, the UK internal security service, went public on the incompetence of MI5 and how it had been monitoring important public figures including Jack Straw, Home Secretary (the man nominally in charge of MI5) and Ted Heath, the former Prime Minister. The agent was not leaking any secure information or putting operations at risk, he was simply exposing malpractice and calling from within for greater accountability. To his shame, Jack Straw instead of applauding the man had him silenced.
Silencing Shayler did not shut up the affair. A second MI5 agent, his girlfriend Annie Machon confirmed his story. Both were now on the run in Europe, hiding from the wrath of MI5. Some weeks later, exactly two weeks after the funeral of Diana, Annie Machon returned to England to be arrested at Gatwick airport. The manner of her arrest, was described in The Mail on Sunday (21 September 1997), who had published the initial revelations, as completely over the top, more fitting for a major terrorist or drugs trafficker than someone who had highlighted the failings and shortcomings of the British intelligence services.
It does not take six burly men to arrest one young female of slender build who has returned to the country of her own volition, not that is unless the intention is to intimidate. The frightening scene of the arrest brought back echoes of KGB thugs intimidating dissidents, as did the smashing of the flat Annie Machon shared with David Shayler. Three weeks before her arrest, the security forces used the cover of a search warrant to smash up the flat that Annie Machon shared with David Shayler. If actions speak louder than words then someone was trying to put across a very strong message.
Sunday 2 November 1997, The Mail on Sunday published the most damning revelations yet from ex-MI5 agent David Shayler on the level of incompetence at MI5. As a consequence of internal bungling MI5 failed to prevent the terrorist bombing of the Israeli Embassy in London, and failed to even notify Mossad of what they knew. There was then a crude attempt at a cover up.
Monday 3 November 1997, ex-MI6 agent Richard Tomlinson appeared before Bow Street magistrates' court charged with offences under the Official Secrets Act. He was denied bail and remanded into custody for a week. He had been arrested at his home a couple of days before by Special Branch (the police wing of the Intelligence Services) and subjected to two days of interrogation at Charing Cross high security police station. His 'crime' was to attempt to publish a book on MI6. An injunction had prevented publication within the UK, rumours were circulating that he was about to publish in Australia. His mistake was not to have followed the the example of Peter Wright, ex-MI5 agent and author of Spycatcher published a decade earlier, and decamped to Australia.
A week later, 9 November 1997, The Sunday Times described how, writing from his prison cell in Brixton, Richard Tomlinson saw himself as a political prisoner and the extraordinary lengths MI6 had gone to to hunt him down. And how Tomlinson relished the opportunity from open court to expose the hypocrisy, dishonesty and mismanagement at MI6.
On Thursday 18 December 1997, Tomlinson was sentenced at the Old Bailey to 12 months imprisonment. In passing sentence, the judge said he was doing so 'in the national interest'.
Following his release from prison, Tomlinson was constantly harassed by the intelligence services, and eventually fled the country, even though this was a breach of his parole conditions. He now resides in Geneva. On fleeing the country Tomlinson has made a number of allegations about MI6, one of these includes a plot to assassinate President Milosevic of Yugoslavia that bears an uncanny resemblance to the death of Princess Diana.
The security services fear Internet. Numerous scare stories are planted in the media, repeated attempts are made to ban the use of encryption. Internet is the one free media, outside of government control, outside of unwarranted interference.
On the day following Diana's funeral The Independent on Sunday reported the case of a man who had been stitched up by MI6 (the UK foreign intelligence agency).
Several demonstrators broke into and occupied properties belonging to British Aerospace. The police brought in, before they saw there own lawyers, a lawyer working for BAe who interviewed the demonstrators. They had requested their own lawyers, as was their right, and been denied that right. The police allegedly released the names and addresses of the protesters to BAe. The following morning, so fast did it happen, protesters found temporary injunctions served on them by BAe at their home addresses. These were followed by injunctions that imposed a life time ban on setting foot on any named BAe property (a list several pages long) or being in the vicinity of. The cost of this action by BAe was estimated by one of the lawyers acting for the defenders at a million pounds.
A week after the funeral, The Sunday Telegraph reported the intense lobbying the Pentagon were applying to Clinton not to agree to a ban on landmines. Their worst fears were that Clinton would even agree to the dropping of the US spoiler clause that would allow exemptions where 'national interests' were at stake.
I give these examples as illustrations, I have many more examples at my fingertips.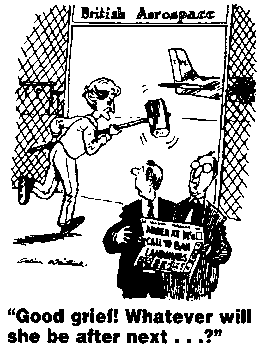 Diana had successfully campaigned against landmines. What next, a ban on arms to Indonesia, Turkey, a visit with Dodi to Palestinian Camps? Alarm bells were ringing very loudly.
Coincidental with the death of Diana, an Arms Fair was taking place in Farnborough - a town known the world over as the site of the Farnborough International Airshow. To this Arms Fair some of the world's most repressive regimes were honoured guests of the UK Government - Turkey, Indonesia. On the day her death was announced they made a point of carrying on, 'business as usual' was quoted one arms dealer. All week, whilst the world expressed its grief the Arms Fair continued. Meanwhile across the country, major events were cancelled as a mark of respect. Following the funeral, millions observed a minutes silence. In Farnborough, the silence was broken by an executive jet flying into Farnborough Airfield. The merchants of death were clearly determined to give two fingers to one who had dared campaign against them.
The response of the people of Farnborough to this shoddy behaviour was one of anger, revulsion and disgust. Letters published in the local press gave some idea of the anger that was felt.
End of September, beginning of October, Farnborough was scheduled to host COPEX - Covert Operations Exhibition. On display and sale would be instruments of torture. Once again the world's most repressive regimes were to be honoured guests.
Colonel Gadafy of Libya has asked the International Court of Justice in the Hague that when those responsible for the death of Diana be caught they be put on trial in Libya. The reason for what at first glance seems a strange request is that Dodi was a Libyan citizen and Gadafy's belief that both were assassinated by the British Intelligence Services. This belief has widespread acceptance in the Arab world, especially Egypt and Libya.
It is easy to see why. A few weeks after Diana's death, an assassination attempt was made in Jordan by two Mossad agents on a prominent Hamas leader. Initially this was reported as a scuffle with two Canadian tourists. The two 'Canadian tourists' were Mossad agents holding forged Canadian passports. The incident backfired badly on Israel. In order to recover their two agents they were forced to release the spiritual leader of Hamas and dozens of Hamas terrorists.
How did it happen?
In the early hours of Sunday, Stephen Jessel, BBC Paris correspondence was speaking live on the BBC World Service and he was puzzled. How, he almost mused to himself did the paparazzi know Diana was in Paris at the Ritz? It was not public knowledge and he as a respected BBC correspondence was not privy to that knowledge. Earlier in the day she and Dodi had been in Sardinia. Who tipped off the paparazzi? Were they all paparazzi, or had a paparazzi been lent on? Was the chase deliberate? Was it intended to force the car to crash, if not here, then some other time, some other place? Many of the paparazzi disappeared, who were they, can those who were found at the scene shed any light on this? Was the car tampered with?
The driver of the car was an anomaly. Why was he driving so fast? Was the car simply out of control, or was there more to it? The police report on the driver was clearly out of character with those who knew him. The security videos, and those who spoke with him and saw him before he departed on his fateful last journey, back those who speak highly of him. If in spite of all this, he was acting out of character, then why?
Down the right-hand side of the car was a scratch and paint marks, indicating a possible brush with another car. Parts of the rear-end of a Fiat Uno were found at the crash scene, this could indicate a brush with another car or simply that the filthy French do not clean up after an accident. There are rumours floating around Paris of eyewitnesses seeing another car rapidly disappearing from the scene. One eyewitness said he saw a small black car leaving the crash scene at very high speed in what he thought were suspicious circumstances.
The French have refused to release footage from security cameras along the route taken by the Mercedes, or to release footage from their own Ministry of Defence cameras (near the Paris Ritz).
On Wednesday 8 October 1997, the French police announced their intention to check more than 100,000 Fiat Unos, that had been registered in and around the Paris area. It was made known that they were looking for a white Fiat Uno. This clashed with earlier rumours that the paintwork was red, blue or black, indicating, if nothing else, the degree of confusion and disinformation surrounding the case. The police also let it be known, that from the wreckage, it seemed that the Mercedes had been in collision with a Fiat Uno moments before the crash.
An off-duty senior police office, reported being overtaken by a speeding white Fiat Uno, which then slowed and loitered at the tunnel entrance, seemingly waiting for the Mercedes. [The Mirror, Thursday 4 June 1998]
Early June 1998, despite intense efforts by the French police, the Fiat Uno has not been found. Speculation that it has been destroyed, or is now out of the country.
Several witnesses saw a motorcycle cut-up the Mercedes moments before the crash. They also saw a blinding flash, far more intense than a photographic flash. Speculation that this was an anti-personnel device used to disable the driver. [Diana: The Secrets Behind the Crash, ITV, Wednesday, 3 June 1998]
Many more people and vehicles are known to have been in the tunnel than have so far given themselves up.
Laurence Pujol, ex-girlfriend of Henri Paul, who had lived with him for five years said he wasn't a heavy drinker. Alexander Wingfield, a bodyguard to Diana and Dodi, spent the two hours before the crash with Henri Paul and detected no sign of drink. He had also driven with Henri Paul in the back-up car from the airport and noted his driving as professional. A sample of the liver showed Henri Paul was not a regular drinker.
On Tuesday 9 September 1997 the results of the third test on the driver were published. All three tests had shown the driver to have consumed high quantities of alcohol. The third test also showed that he had been taking drugs. If the tests are correct then it raises more questions. Why was his behaviour so out of character, why did no one notice?
ITV documentary Diana: The Secrets Behind the Crash (Wednesday, 3 June 1998), showed a high carbon monoxide content in Henri Paul's blood that did not correlate with his behaviour.
Henri Paul was at the Ritz two hours before the crash. Where was he between driving from the airport and his being recalled back to the Ritz? This vital gap in his movements, hours before the fatal crash, are still not accounted for.
The first duty of a bodyguard is to protect those in his care. Why did he not ensure the occupants of the car were wearing their seat belts? Moments before the fatal crash, Trevor Rees-Jones fastened his seat belt. Why? Trevor Rees-Jones failed to follow standard protection procedures.
Paul Burrell, Diana's personal butler, arrived in Paris within hours of her death to collect her belongings and arrange their return to London. Though in the company of a Foreign Office official he was kept waiting for 40 minutes. He then found that all Diana's personal effects had been gone through and dispatched back to London. By whom, on whose orders, why? Neither he nor the FO official were able to obtain satisfactory answers to these questions. Paul Burrell found the experience extremely upsetting and distressing.
These and many more questions need to be answered. Mohamed al-Fayed obviously felt something was wrong, why else did he bring in a top forensic scientist. For that he is to be applauded. I can only hope that he also has the foresight to bring in his own investigators and question all those involved. He needs to do this now whilst the evidence is fresh. Only Mohamed al-Fayed has the wealth to conduct such an investigation.
Though al-Fayed also has a vested interest. If the driver was incapacitated, then the Ritz Hotel (as employer) and ultimately al-Fayed (as owner) are culpable. He may have other interests that are not yet apparent.
But, even if the driver was pissed out of his brain and high as a kite, as the third autopsy would seem to indicate, this still does not let the paparazzi of the hook, as it was they who were chasing the car.
The Sunday Telegraph (14 September 1997) reported that the bodyguard, Trevor Rees-Jones was under round-the-clock police protection on the direct orders of the chief of criminal investigations in Paris, Martine Monteil and that Mohamed al-Fayed had hired a team of investigators headed by an unnamed senior ex-Scotland Yard officer.
Will the truth out?
A difficult one to answer - too many people have vested interests, few, if any, of of the major players have clean hands.
Mohamed al-Fayed (the Phoney Egyptian Pharaoh): repeatedly exposed in the British media as a vulgar, corrupt, conniving Egyptian. The DTI report on his business dealings: "The lies of Mohamed Fayed and his success in 'gagging' the press created new fact: that lies were the truth and that the truth was a lie." In their conclusion on the al-Fayed brothers: "dishonestly misrepresented their origins, their wealth, their business interests and their resources", and provided information which they "knew to be false". In an editorial, The Daily Telegraph noted that former Harrods employees had had their apartments bugged on the orders of Mohamed al-Fayed (Wednesday 15 October 1997). The previous day, Neil Hamilton, a former-MP and ex-government minister allegedly bribed by al-Fayed, claimed under oath in a submission to the House of Commons privileges and standards committee, that al-Fayed had personally ordered and overseen the forced entry of safe-deposit boxes stored at Harrods, he went on to say: "Mr Fayed has a well known record of deceit and invention ... an innate capacity for deceit". Scotland Yard confirmed that they were investigating the illegal entry of the safe-deposit boxes. The Observer, Sunday 30 November 1997, reported on the extensive monitoring by al-Fayed on the staff employed at Harrods. On Monday 2 March 1998, al-Fayed was arrested for allegedly stealing and tampering with items belonging to Tiny Rowland that had been stored in safe-deposit boxes at Harrods.
Michael Cole (mouthpiece for al-Fayed): allegedly sacked by the BBC for leaking the Queen's Speech (refuted by Cole), universally detested by the media. On Friday 20 February 1998, Cole dramatically quit his post, apparently even he could no longer stomach the garbage he was spouting (The Express, Saturday 21 February 1998).
Henri Paul (chauffeur, Ritz security): his friends are adamant that he is undergoing character assassination, a British newspaper reported him as a shady character, leading a seedy double life. ITV documentary Diana: The Secrets Behind the Crash (Wednesday, 3 June 1998), claimed Henri Paul was a member of the French Intelligence Service. Richard Tomlinson (ex-MI6) has claimed that Henri Paul was working for MI6.
Trevor Rees-Jones (bodyguard): the only major player whose reputation has survived as remarkably clean, but his background as an ex-member of the Parachute Regiment does not enhance his standing, as anyone who has had the misfortune to live in the garrison town of Aldershot will testify, members of the Parachute Regiment are little more than thugs kitted-out in army uniform. On Saturday 28 February 1998, Trevor Rees-Jones issued a statement that following counselling sessions with a psychiatrist he was now able to recall much what of what had happened. The statement raised many questions - to what extent had information been planted in his mind, what undue influence had al-Fayed brought to bear now that Rees-Jones had returned to light duties, was Rees-Jones being paid for his story? On Monday 20 April 1998, Trevor Rees-Jones resigned from the service of al-Fayed, expressing a desire through his layers to 'move his life on'. Wednesday 23 September, Trevor Rees-Jones indicated his intention to sue the company that had hired the Mercedes to the Ritz.
Paul Handley-Greaves ('security expert'): known as a liar and a cheat. Was involved in an elaborate plot to discredit Vanity Fair, by claiming to be in possession of stolen security videos from Harrods.
James Hewitt (ex-lover, widely regarded as a shit): not an immediate player but his revelation in the ITV documentary Diana: The Secrets Behind the Crash (Wednesday, 3 June 1998), that he was warned off his relationship with Diana as 'not conducive to his health', that his 'security could not be guaranteed' and that he could meet the same fate as Barry Mannakee (Diana's personal bodyguard, killed in a motorcycle accident, 1988) lends some credence to the possibility Diana's death may not have been an accident. [The Times, Wednesday 3 June 1998]
The Press: blood stained from their implied involvement in the death. Will do anything to shift the blame and focus of attention elsewhere.
The truth may never out. Mid-October 1997, John Burton, the British coroner charged with investigating and recording a verdict on the death of Diana, publicly expressed his concern and frustration at his inability to get at the truth. He cited the disinformation surrounding the case and referred to the conspiracy theories appearing on Internet.
Did they succeed?
First, before I answer, does it make a difference, if, as I posed at the beginning it was an accident, or as the autopsies on the driver indicate, driver error, propelled by the paparazzi? To this the answer is no, as the end objective is met, the Princess is taken out of the game and hands are clean.
To return to the posed question, did they succeed, the simple answer is no, and that has been answered by the millions who responded to her death.
Anyone who spent an evening in Kensington Palace Gardens could not but helped be moved by the spirit that was in the place.
The people want a memorial to Diana, they want more than a pile of stone, they want to see her work continue. As the Palace found to its cost, the public will not back down on this.
A quiet revolution appears to be taking place, thirty years on after the revolutionary mood of the '60s. Then is was a radical element wanting a better world, to be cast aside by the '70s and gruesome '80s, now it is the whole population. A velvet revolution appears to have gripped the psyche. Can it succeed? Maybe, in the '60s the radical youth were greeted by the hard old men who grew up on war and knew nothing else. Now, those radicals of the '60s hold positions of power, are people of influence, will they, can they, deliver what they once dreamed of, now that the public demands it?
Earl Spencer, in probably the most eloquent speech in history, pledged in a tribute to his sister to continue the work of Diana. He pledged to see that her sons would be brought up in the way she would have wished, that they would help to continue her work. It would be a very foolish person indeed who tries to oppose him.
Both Tony Blair and Hilary Clinton have sensed and grasped the public mood. Both have pledged to continue her work.
Outside Kensington Palace, I was struck by flowers from Iraqis mourning what for them was the loss of a beacon of humanity.
The work on landmines has become a foregone conclusion - a world ban. It is amazing who has jumped on the bandwagon following Diana's death. Robin Cook (UK Foreign Secretary) pushing hard for a ban as though it has been his lifelong ambition, if nothing else it has added some substance to his ethical foreign policy which until then noticeably lacking in substance. A general, in a letter to The Times, highlighted the lack of military utility of landmines and gave the campaign his whole-hearted backing. What next, a ban on arms to repressive regimes such as Turkey and Indonesia? This is a logical extension, and probably something Diana would have moved on to once she realised the full extent of her power for good.
For everyone, the world over, a light has gone out, but as the many candles burning in Kensington Palace Gardens has shown, there are many who are determined to keep that light burning.
As one, with Tony Blair and Hilary Clinton I am proud to be counted as one who will help to move her work forward for the poor, the sick, the disadvantaged, for all of humanity.
It is for others to light their own candles to banish the forces of darkness and show that they are finally defeated. The forces of darkness may have extinguished one flame, but a million stand its stead each burning with the same spirit and passion.
---
There were those who from a position of ignorance and bigotry chose to ridicule this account. History may yet prove them wrong. Within hours of the tragedy, conspiracy theories started to appear on the Web, within days serious questions were raised in Cairo, including the publication of a book. Once the initial shock had wore off, dark hints were made, then questions started to be asked, soon the possible presence of other vehicles became more than mere unsubstantiated rumour and speculation. On Saturday 14 February 1998, The Times raised the issue with the stark headline 'Diana: was it murder?'. The article was attributed to Thomas Sancton and Scott MacLeod, authors of Death of a Princess: An Investigation. Having posed the question, no clear cut answer was given other than to highlight, as has been done here, the many riddles and puzzling elements of her death.

Still more questions were raised in an ITV documentary Diana: The Secrets Behind the Crash, broadcast Wednesday, 3 June 1998. The programme raised the possibility of Henri Paul being a member of the French Intelligence Service, serious flaws in his blood sample, and the presence of a motorcyclist who tried to cut-up the Mercedes moments before the crash and may have been the cause of a blinding flash deliberately aimed to disable the driver. In a follow-up studio discussion Bernard Ingham (former mouthpiece of Lady Thatcher) and Rupert Allison (self-styled intelligence expert) both demonstrated their ignorance and bigotry. David Shayler (ex-MI5 agent) was barred by government threats from participating in the studio discussion.
---
Alternatives ~ Diana ~ Landmines ~ Intelligence Services
---
(c) Keith Parkins 1997-1998 -- December 1998 rev 20