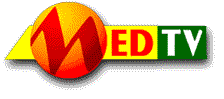 Med-TV - Kurdish Satellite Television
"When I went to Dyarbakir and Mardin in December 1995 for the Turkish general election, I enquired particularly whether that TV station [Med-TV] was being received and what was the public response. I was told that the viewers were positively rapturous. Old people had wept for joy after such a long period of cultural starvation. For all, it was a new window on the world and, what is more, in their own language." -- Lord Hylton, House of Lords debate on Human Rights in Turkey, 18 July 1997
"When I was in Turkey there were people telling me that Med-TV is being watched very much in Turkey" -- Pauline Green MEP
"I think Med-TV is a simply wonderful idea" -- John Pilger
"[persons belonging to national minorities] be able to use their language both in private and in public and should be able to use it, under certain conditions, in their relations with the public authorities." -- Vienna Declaration, Council of Europe, 9 October 1993
Med-TV is a Kurdish language satellite TV station. It broadcasts to Europe, North Africa and the Middle East from Eutelsat via an uplink in London. It holds a licence to broadcast from the ITC. Programmes are a varied mix from children's programmes, music, drama through to political discussions, documentaries and news broadcasts. Its primary audience is in the Middle East where it is seen as a refreshing source of information outside of state censorship. It also has a large audience amongst the Kurdish population scattered throughout Europe. There are plans to distribute the station via cable networks.
Apart from broadcasting in the main Kurdish dialects (Sorani, Kurmanci and Zazaki) Med-TV also broadcasts in Turkish, Arabic and Assyrian. As a reflection of the disparate nature of minorities within the Middle East Med-TV broadcasts religious programmes aimed at Christian, Alevi, Sunni and Yezidi communities. Med-TV has caused a Renaissance in the the production of Kurdish films, hitherto a cultural wilderness.
In Turkish occupied Kurdistan, Kurdish families and villagers have clubbed together to buy satellite dishes and receiving equipment for the reception of Med-TV. Following the illegal invasion of northern Iraq in May 1997 by Turkey, an area supposedly protected by the Western Allies under Operation Comfort, Turks as well as Kurds have turned to Med-TV as an independent source of information.
Such is the demand for Med-TV that those with the capability tape the programmes and distribute the videocassettes to their friends.
Turkey is a repressive regime with atrocities against its own people well documented. Not only against the Kurds, but also human rights campaigners and monitors, lawyers, trade unionists and journalists. For the Kurds singing and dancing in their own language can be seen as a terrorist offence, let alone calling for a degree of autonomy.
Med-TV has caused a serious problem for Turkey. They can not simply burst into an office, beat up a few journalist and smash the equipment as the offices, studios and broadcast equipment are located in Europe outside of Turkey. This is not to say Turkey has not tried.
Turkey has attempted to apply pressure on the relevant European governments, especially London where the licence to transmit is held, to close down Med-TV. Illegal pressure has been applied - a Med-TV director in Germany was attacked and badly beaten by a group of thugs speaking Turkish, staff in the UK have been followed and harassed by people of Turkish appearance. Attempts to block the transmissions have involved direct sabotage attacks on Eutelsat.
A smear campaign has been mounted in an attempt to discredit Med-TV and cause them to lose faith with their financial backers. This was picked up by the London paper The Independent (28 November 1995) who falsely accused Med-TV of being backed by PKK (the Kurdish Workers Party). Some weeks later (21 December 1995) The Independent were forced to publish an apology and a retraction.
The Independent which trades on its reputation of being 'independent' has a tarnished reputation in this area. Lobby for Cyprus slammed its sister paper The Independent on Sunday for promoting holidays in Turkish occupied northern Cyprus. It could be no coincidence that the article (20 July 1997) was timed to coincide with the 23rd anniversary of the Turkish occupation. When challenged by Lobby for Cyprus, the lame response of the editor of their travel section (Mr Atiyah) was that he had been well paid for the article. The Sunday edition of the paper is still carrying advertisements in its travel section for holidays in occupied Cyprus, this in spite of a EU embargo on trade with the self-declared TRNC.
Within Turkish occupied Kurdistan the situation is far worse. Satellite dishes and receiving equipment have been destroyed. Kurds caught watching Med-TV have been tortured, detained, death threats have been issued.
The behaviour of the British Foreign Office has been a national disgrace. At the behest of the Turkish Authorities they have, albeit unsuccessfully, tried to force ITC to revoke Med-TV's broadcast licence. They have though managed to cut off a free news feed to Med-TV. Poland, Belgium, France and Germany have all kowtowed to pressure from Turkey.
Despite these attempts to silence Med-TV it has continued to broadcast, and gone from strength to strength. Many viewers tune in as a direct response to Turkey's attempt to silence the station. As a result of Turkey's crude attempts to silence Med-TV it has found a number of influential allies and supporters, not least of which include - Bruce Kent, Lord Avebury, Lord Hylton, Pauline Green MEP, Harold Pinter, Tony Benn MP, Michael Feeney, Jon Snow.
In any consideration of Med-TV's licence ITC should take due note of press and media censorship within Turkey. It should also take note of various international agreements and conventions on democracy and press freedom to which Turkey is a signatory.
All over Europe there are TV and radio programs in minority languages. To broadcast such programmes in Turkey, in Kurdish, is a terrorist offence.
Technical details Eutelsat II F2 transponder 37 11.575 GHz audio 6.65 GHz vertical polarisation.
---
Home ~ Turkey
---
(c) Keith Parkins 1997 -- November 1997 rev 1