Brighton Pier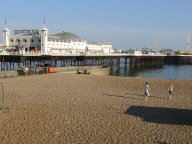 Brighton Pier, or as it is also known, Palace Pier, was the third pier in Brighton.
The first pier, The Royal Suspension Chain Pier of 1823, no longer exists. The second pier, the West Pier (1866), lies derelict and will probably soon be no more.
Work began on Palace Pier, or Brighton Pier as it is now known, in 1891, and it opened in May 1899 after costing a record £137,000 to build. Two years later, a concert hall was added. This was turned into a theatre in 1911. The theatre was later removed, on the understanding it would be replaced, but this was not to be.
A condition that had to be met prior to permission being granted to construct the pier was that The Royal Suspension Chain Pier of 1823, which had fallen into a state of disrepair, had to be demolished. Fate stepped in and a storm destroyed the "Chain Pier" in 1896.
Brighton Pier suffered a large fire on 4 February 2003 but the damage was limited and most of the pier was able to reopen the next day.
Damage and destruction seems to be the fate reserved for Brighton's piers. The West Pier (of 1866) was damaged before and after this event. The West Pier has since been destroyed in an arson attack.
The tacky amusements on the pier are all part of the fun of a modern-day pier.
Apart from being a place to have fun or to sit and relax and watch the world go by or watch the sun go down, Brighton Pier is also a BookCrossing zone.
In 1998, the National Piers Society named Palace Pier (they refuse to recognise the name Brighton Pier), Pier of the Year.
The National Piers Society, founded in 1979 by Sir John Betjeman, is dedicated to promoting and sustaining interest in the preservation and continued enjoyment of seaside piers.
BookCrossing zones are locations where books are released into the wild, their progress tracked through the Internet via a unique BookCrossing ID (BCID).
---
Sussex ~ Brighton ~ The Royal Suspension Chain Pier ~ West Pier
---
(c) Keith Parkins 2007 -- August 2007 rev 1