Paulo Coelho
The Warrior of Light does not worry that, to others, his behaviour may seem quite mad. The warrior may seem mad, but this is just a disguise. -- Paulo Coelho
We are the warriors of light. With the strength of our love, of our will, we can change our destiny, and the destiny of many others. -- Paulo Coelho
When a person really desires something, all the universe conspires to help that person to realize his dreams. -- Paulo Coelho
There is a revolution that is slowly setting up, which the press doesn't seem to have detected yet. If I had to sum up the whole idea in only one expression, I'd say that the new political attitude for our era is to "die alive". In other words, being aware of and participating in things until the day we die - something that does not occur very often. People end up dying to the world on the day they renounce their dreams. After that, one departs on a journey as did Ulysses, accepting the challenges and knowing that sometimes one must fight alone, yet understanding he stands in for the entire human race. -- Paulo Coelho
When I was fifteen, I said to my Mother: 'I've discovered my vocation. I want to be a writer.' -- Paulo Coelho
The pages that follow contain accounts of some of my own experiences, stories other people have told me, and thoughts I've had whilst travelling down particular stretches of the river of my life. -- Bertolt Brecht
A truly good book teaches me better than to read it. I must soon lay it down, and commence living on its hint. What I began by reading, I must finish by acting. -- Henry David Thoreau
Every time I lay one of your books down, as the quote says: I must finish it by acting........ -- Celia, Paulo Coelho MySpace friend
The Alchemist is a beautiful book about magic, dreams and the treasures we seek elsewhere and then find on our doorstep. -- Madonna
It's like music, really, the way he writes, it's so beautiful. It's a gift that I envy above all others. -- Julia Roberts
I suggest that the only books that influence us are those for which we are ready, and which have gone a little farther down our particular path than we have yet got ourselves. -- E M Forster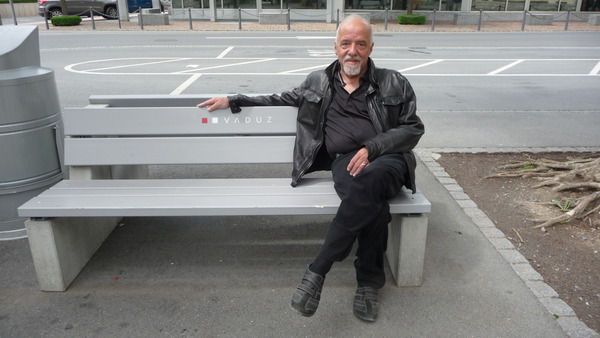 I was in Guildford for the day for the farmers market which usually takes place on the first Tuesday of the month, but unfortunately had been cancelled due to the foot and mouth outbreak at nearby Wanborough.
I took a late lunch at the White House pub by the river. In the summer a pleasant place to sit and relax outside (or was until they designated it an area for smokers). I got chatting to a very pleasant girl from Lithuania about books and BookCrossing.
She was completely engrossed in reading a Lithuanian translation of The Zahir by the Brazilian writer Paulo Coelho.
The Alchemist I said, almost as much a question as a statement. Yes, she replied, and The Pilgrimage.
Why The Alchemist came to my mind I do not know. I thought maybe I had seen it earlier that day, maybe in a bookshop, but as I was to later learn, this was not so, nor was I at the time familiar with either the author or his works, although that was about to change thanks to my new found Lithuanian friend. I was baffled.
We had an interesting chat about books, BookCrossing, writers Paulo Coelho, Paul Auster, Hermann Hesse and Carlos Castaneda, Brighton, Latin American music, Cuba including the brilliant performance by Simply Red in Cuba, Dirty Dancing, including the Cuban version (though at the time neither of us could remember the name of the film), AfroReggae, the film Favela Rising and the BeyondTV International Film Festival held in Swansea. In short, we found we had much in common.
A couple of weeks later I was in Brighton. I had a similar conversation, only now the roles were reversed. History repeating itself, a sense of déja vu? [see Synchronicity and Paulo Coelho]
In conversation with Juan Arias and some other friends, Paulo Coelho and friends discuss how easy it is to talk with a stranger when they are reading a book or an author with which you are already familiar. This was certainly the case with the lovely Lithuanian girl I met one summer's day, whose name I sadly cannot remember. [see Paulo Coelho: Confessions of a Pilgrim]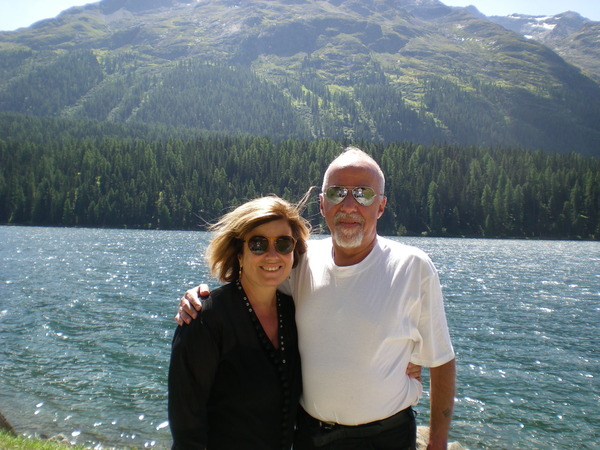 Following my newly found friend's excellent recommendation, I then went off in search of The Zahir in the Guildford bookshops before they closed. I could find neither The Zahir or The Alchemist, but did find the recently published The Witch of Portobello in hardback (too expensive) in one bookshop and in another bookshop Like the Flowing River (at a discounted prices), so I picked up the one remaining copy of Like the Flowing River. A couple of days later, I managed to find a copy of The Alchemist.
Like the Flowing River is a collection of vignettes. Paulo Coelho's thoughts and reflections on life and the meaning of life. Like the Flowing River brings to mind the writings of Wendell Berry, which are reflections of the world around him, and fellow deep ecologist Gary Snyder.
Paulo Coelho (1947- ) was born in Brazil and is one of Brazil's best known writers. He is best known for The Alchemist and Eleven Minutes. He was recognised in his own country when he was inducted into The Brazilian Academy of Letters (2002).
Paulo Coelho was born in Rio de Janeiro, Brazil, where he still lives for part of the year. He attended a Jesuit School, then Law School, but abandoned his studies in 1970 to travel throughout Mexico, Peru, Bolivia, and Chile, as well as Europe and North Africa. In essence he was on the hippy trail, following in the footsteps of Carlos Castaneda. It was during this period he came to the unwelcome attention of the military controlling Brazil, was kidnapped off the street by paramilitaries and tortured.
From an early age, Paulo Coelho always wanted to be a writer. He started by writing lyrics for Brazilian songs, then moved on to writing novels.
Paulo Coelho wrote song lyrics for many famous performers in Brazilian music, such as Elis Regina and Rita Lee, his best known work was with Raul Seixas. A performance from this period, 'Raul e Paulo Coelho', can be found on YouTube. More videos featuring Raul e Paulo can be found on the YouTube site of Raul Seixas (see baudraul).
The middle class family into which Paulo Coelho was born were so horrified at his desire to be a writer that they had him committed to a psychiatric hospital, where he was subjected to electro-convulsive therapy to rid him of his delusions. Thirty years later he was to describe his experience in Veronika Decides to Die. His experience was to lead to a law in Brazil prohibiting arbitrary hospital detention.
Veronika Decides to Die is the second novel in the And on the Seventh Day trilogy. The other two being By the River Piedra I Sat Down and Wept and The Devil and Miss Prym.
Veronika has seven days in which to live after a unsuccessful suicide attempt. Pilar has seven days in which to save her soul. Miss Prym is engaged in a fight with the Devil, an epic struggle between Good and Evil, seven days in which to save the village of Viscos.
Due for release some time during 2009, Veronika Decides to Die has been turned into a film starring Sarah Michelle Gellar as Veronika.
Many of his works are semi-autobiographical, what Paulo Coelho calls 'fictionalised experiences'.
The Pilgrimage is an account of treading the pilgrim's route the Road to Santiago (a medieval pilgrim's route between France and Spain). He was led to tread this route following a vision he had when visiting the concentration camp at Dachau. Two months later he met in a café in Holland the man who appeared to him in the vision. Twenty years on, Paulo Coelho repeated his journey, he also travelled the Road to Rome.
J, we learn little more of him other than he a Jewish businessman, is the man Paulo Coelho met in a vision. Coelho was to become the disciple, J the master.
He is a Jewish businessman, simply someone from whom I learn. He is not the guru of a sect but rather part of a group, which believes in the language of symbols.
Why do we destroy those who we love? It is a curse we are all burdened with. To break this curse is the task J sets Paulo Coelho. To do so he must travel to the Mojave Desert, find the Valkyries, warrior women who travel around on powerful motorbikes. A journey Coelho recounts in The Valkyries. He also puts pen to paper some of his dark past, the period when as a songwriter he dabbled with black magic, was imprisoned by the military.
In The Witch of Portobello, Paulo Coelho, a committed Catholic, appears to challenge the very bedrock of the authoritarian Catholic Church, by exploring the feminine side of religion, a Mother God. He was inspired to write The Witch of Portobello after reading Muhammad by Karen Armstrong, an ex-Roman Catholic nun. He wished to explore the feminine side of religion, to question why society had tried to lock away the feminine side. The character of Athena, with her freedom and courage, was his way to tackle the subject and to unveil the shackles of dogma.
In earlier times this would have led to excommunication, torture, burning alive at the stake.
I'm not afraid of that. I go every year to a Benedictine retreat in Austria, called Melk. There I spoke to Abbot Buckhard about Catholic tradition and, during our talks, the issue of women's exclusion came up. He told me that the Benedictine have prayers dedicated to the Goddess-Mother. In 200 years I believe that feminine divinity will no longer be a taboo.
In Brida (not published in English until 2008), drawing on the experience of a woman he met on the Road to Rome, Paulo Coelho also explores the feminine.
Paulo Coelho was once an atheist, then a Buddhist. Then he returned to the religion of his childhood, Catholicism.
Asked why he returned to Catholicism, Paulo Coelho replied:
Because it is in my blood and not because I think it is the ultimate religion. I also do not like Pope Benedict. I have tried everything that there is. All religions have the same objective. I see Christian fundamentalists, who wreak a great deal of havoc. One can still be spiritual as an atheist.
Although Paulo Coelho is a committed Catholic he does not believe there is one true path. His writings reflect this. It is zealots who believe there is one true path and that path is their path that has caused the slaughter of millions of our fellow human beings in the name of religious bigotry and intolerance. That and greed.
I'm a Catholic. But I think that each and every religion, if chosen with sincerity, leads to the same God. And I don't transfer to my religion my responsibility for my spiritual search.
A common theme running through all the works of Paulo Coelho, is to be like Santiago, to follow our dreams. In The Winner Stands Alone he takes this one step further. These dreams should be our own dreams, what makes us an individual, not plastic dreams fabricated for us in an age of 'celebrity'.
Paulo Coelho celebrated his 60th birthday on 24 August 2007 with a visit to Lourdes. He had a birthday party earlier in the year in March, to which he invited ten readers of his blog. As part of his birthday celebrations, he asked that donations be made to Creche Escola Meninos da Luz, one of the organisations helped by the Paulo Coelho Institute. [see My birthday gift and Saint Joseph Party Puente la Reina]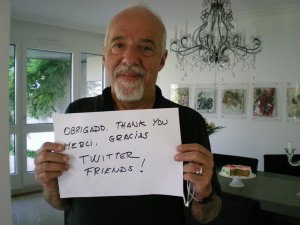 On his 62nd birthday, Paulo Coelho thanked everyone for their greetings with a picture on twitpic.
September 2007, Paulo Coelho was designated a Messenger of Peace by the UN. [see Messenger of Peace]
Favourite Books: The Prophet by Kalil Gibran (or Khalil Gibran, later anglicised to Kahlil Gibran), Nineteen Eighty-Four by George Orwell, Tropic of Cancer by Henry Miller, El Aleph by Jorge Luis Borges, Songs of Experience by William Blake and The Teachings of Don Juan by Carlos Castaneda.
Favourite writers: Jorge Amado, Jorge Luis Borges, William Blake and Henry Miller.
Favourite musician: John Lennon.
When I last looked, Paulo Coelho had 4320 friends on MySpace. A few days later and the number of friends had risen to 4548, a few hours later 4561. Somewhere along the way, I increased it by one when I was added as a friend.
HarperCollins have placed several Paulo Coelho titles on their website, albeit not in an easily manageable form and possibly for a limited period only. This appears to be in direct response to Pirate Coelho, a website with the look and feel of the 'official' Paulo Coelho blog, with links to websites that have available for download books and audio books. Pirate Coelho would appear to have the tacit approval of Paulo Coelho, if not actually created or instigated by him, as there is, or was, a link from his blog. An unorthodox way of widening his audience and increasing book sales?
Pirate Coelho did indeed have the support of Paulo Coelho. He was outed when one of the pirate copies was found to have notes from one of his manuscripts. This did not please his publishers, but it did force the hand of HarperCollins, who were then obliged to put his books on-line.
I don't understand why publishers don't understand that this new medium is not killing books. I'm doing it mostly because the joy of a writer is to be read. But at the end of the day, you will sell more books.
No one can understand why the publishers initially kicked up a stink. As Paulo Coelho discovered, you put books on-line and more copies are sold. Russian copies of his books soared when copies were made available on-line. Nothing beats holding a book in your hand. If you like a book, you go out and get a copy.
The Winner Stands Alone was first published on-line. Several books are now only available on-line.
Any remaining doubts were demolished in a speech Paulo Coelho gave at the opening of the Frankfurt Book Fair. [see Speech for the Opening of the Frankfurt Book Fair]
To celebrate 100 million copies of books sold and the 20th anniversary of The Alchemist, Paulo Coelho created the Virtual Exhibition. Readers were asked to send in a photo of themselves with their favourite Coelho book and they'd appear in the virtual exhibition. Pictures from the virtual exhibition were to be exhibited at the Frankfurt Book Fair.
Paulo Coelho in partnership with Spanish fashion chain Mango created and launched a collection of t-shirts illustrated with quotations by the author. It was a fund-raising initiative for the Paulo Coelho Institute, with more than half of the earnings from the sales of the t-shirts going to the Institute. The t-shirts were launched 22 April 2009 and within two days were the the top-selling item at all Mango shops around the world. Somewhat ironic when the launch coincided with the worldwide publication of The Winner Stands Alone.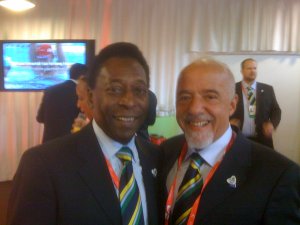 The ultimate chic, a t-shirt bearing meaningful words from a critic of the fashion industry!
Together with football legend Pele, Paulo Coelho was one of the team who helped win the 2016 Olympics for his home town of Rio. After Rio was awarded the 2016 Olympics, Paulo Coelho told his Brazilian friends that he will fulfill his promise to be upside down on the eve of the Olympics in Brazil. He will then be aged 70. Some weird Brazilian tradition? [see Rio 2016]
Paulo Coelho brought to wider attention the evil regime in Iran when he posted on his blog a video of the killing of an innocent bystander 26-year-old philosophy student Neda Agha-Soltani by thugs acting for the Supreme Being. Her family were denied prayers in the mosques, denied a proper funeral service. A young life may have been silenced, but her death was heard around the world. The doctor who came to the aid of Neda was a personal friend of Paulo Coelho and when he visited Iran was his friend and guide. [see Iran by Neda]
The doctor who tried to help Nada, was forced to flee Iran for fear of his life. Once he was safe in London, or as safe as one can be from the evil regime in Iran, Paulo Coelho made public his name and an exchange of e-mails that had taken place. In an interview for the BBC, Arash Hejazi gave a very eloquent and moving account of what he had seen.
Monday 3 August 2009, Paulo Coelho sets up a poetry forum on his blog. Tuesday evening he sends me a message on twitter to say over 1,000 people have posted their favourite poem within the last 24 hours. Amazing! He appears to have taken on my suggestion and it looks like in the near future an anthology of these poems will be published in association with HP Printers. [see Forum on Poems]
Paulo Coelho has always been willing to innovate and try out new ideas. An example of this was in August 2009 when he allowed people to interview him using twitter. He would announce on twitter that he was available for interview: five questions in English, five questions in Portuguese. Once he had answered the questions, the interview was over. Paulo Coelho then took his use of twitter one stage further by using it to issue an open invitation to his followers on twitter to join him in a bar for a drink!
Latin America Television has produced a documentary on Paul Coelho. It is in Portuguese with subtitles in Spanish. [see El Alquimista de las Palabras]
The Paulo Coelho Institute was founded in 1996 by Paulo Coelho and his wife, Christina Oiticica, to provide support and opportunities for the underprivileged in Brazil, especially children and the elderly. The Institute is a non-profit-making institution financed exclusively by the author's royalties.
Academia Brasileira de Letras was established at the end of the 19th century by a group of 40 writers and poets to safeguard the language and culture of Brazil. Its model was Académie Française. The original 40 were known as 'immortals'. Membership is for life. New members are admitted by a vote of the Academy members when one of the 'chairs' become vacant. The chairs are numbered and bear the names of their first incumbents. Paulo Coelho occupies chair 21.
Gagik Ismailian has produced a contemporary dance performance, Veronika decided..., inspired by Veronica Decided to Die. This guy is amazing. Also see his contemporary dance performance, Masks of Time, created for Balé da Cidade de São Paulo, Brazil.
Permission to experience success, one person's personal impression of The Zahir.
The Alchemist: Santiago Meets the Old Man, Santiago meets the Alchemist in the plaza. A scene taken from The Alchemist. An animation using Lego bricks!
"The Alchemist" by Paulo Coelho, is an exploration of The Alchemist.
Copies of books by Paul Coelho have been registered as BookCrossing books.
BookCrossing books are released into the wild and their progress tracked through the Internet via a unique Book Crossing ID (BCID).
---
Literature
---
(c) Keith Parkins 2007-2010 -- July 2010 rev 31