Bomber Command Memorial Appeal Banquet
3 July 2009, myself and my wife were invited guests of Group Captain Adrian Hill at a memorial dinner for Bomber Command hosted at Petwood Hotel in Woodhall Spa, former Officer's Mess of Dambusters, 617 Squadron.
I first met Adrian Hill the year before when he was a Wing Commander. I had to stop with a punctured tyre. I managed to jack the car up but could not undo the wheel nuts. Adrian Hill kindly came to my aid. He undid the nuts and then went on to change my wheel for me. We got chatting and I learnt he was in the RAF, a Wing Commander training pilots, with combat experience of Iraq and Bosnia. I told him of my experience, a Warrant Officer, Flight Engineer on Lancasters during the Second World War and towards the end of the war, an instructor on Stirlings. That I was a veteran of 39 operations, had survived a mid-air collision and crash landing.
We shook hands, I thanked him, and jokingly said 'It must a be a first, a Wing Commander changing the wheel for a Warrant Officer'.
After our meeting we became good friends. For my 84th birthday he gave me a large print of a Hawk flying alongside a Lancaster. When he learnt my wife Mavis liked the Red Arrows he gave her a large print, signed by all the crew. Both pictures are now framed and hang on the walls of our house together with some of my own paintings and pictures of the family plus a historic picture of Brayford Pool.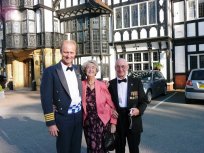 Adrian asked me one day in June, would I like to be his guest at a dinner at Petwood Hotel to commemorate Bomber Command. I was overwhelmed, said yes and thanked him. Later his wife Natalie said she would be going and my wife was also invited.
It was to be a formal black tie dinner. Lacking a dinner suit, I went out and bought a complete outfit for the dinner. I polished up my medals, and Adrian's wife Natalie kindly sewed loops on my jacket on which to hang them.
The dinner was to commemorate fallen heroes, to raise awareness and to raise funds for a memorial to Bomber Command and all those who had risked and lost their lives during World War II. All the food and drink had been donated, top hotels in London lent their chefs and this included three Michelin star chefs! The tickets were £100 a head.
On Friday 3 July 2009, we set off for Petwood Hotel. On arrival at 7-15pm we had pre-dinner drinks and were introduced to some of Adrian's friends, who later sat with us for dinner.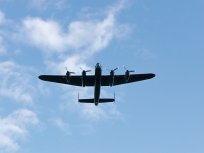 We drifted into the grounds, champagne flowed like water. We were outside to watch a fly past by a Lancaster, part of the Battle of Britain Memorial Flight based at nearby RAF Coningsby. The following day Adrian was at RAF Waddington for the Waddington International Airshow and took a few photos of the Battle of Britain Memorial Flight.
At around 7-45pm, to the delight of everyone, especially those taking photos, the Lancaster flew low over the Petwood grounds three times.
We then went inside to enjoy our superb dinner. Everyone found they had a souvenir, a memorial mug specially commissioned for the dinner and a 54-page glossy booklet of the Battle of Britain Memorial Flight 2009.
Dinner was followed by a talk by a pilot who had written a book on what it was like to go on a bombing raid from initial briefing through to coming home, what went through the minds of the crew.
David Shepherd, conservationist and artist, was the guest speaker. He said he had no notes, didn't know what he was going to say and would talk for about 5 minutes. He talked for about 45 minutes. He had everyone in stitches. It was obvious he did not like the Labour Government. He then got down to the main business. He asked the Squadron Leader on the top table to auction off three of his paintings as he had great admiration for the bomber crews of WWII.
Two of his painting went for £1500 each. The third was actioned off at £2,500. All monies raised were to go to the memorial fund.
David Shepherd is a painter of wildlife. What I did not know but was to learn that evening, David Shepherd also paints aircraft. He has also established the David Shepherd Wildlife Foundation.
Leaving my wife Mavis to chat to the men on our table, one of whom was an ex-Red Arrows pilot, I went over to grab the autograph of David Shepherd. Whilst I was waiting in line, I got chatting with a lady who was also waiting. She asked had I served on bombing operations. I answered yes and gave her a brief history, that I was a veteran of 39 operations, had flown on Lancasters as a Flight Engineer, had survived a mid-air collision and a crash landing in a Sterling in Wigsley Woods near Lincoln. She put her arms around me, gave me a hug and a big kiss and said thank you. When I asked her what for, she replied if it was not for aircrew like myself we would not be here today enjoying this dinner. I found it very emotional.
An Air Commodore thought he knew me, but I could not place him. When I told him I was with 630 Squadron at East Kirkby, he asked me if I knew an American pilot who was on exchange with our squadron. I replied yes, he used to go drinking with us in Boston. He was always being picked on by the Military Police for wearing half US half RAF uniform, though he always got away with it. Sadly he is no longer with us as he was shot down.
To entertain us was a swing band.
Before we knew it, it was 1-30am the following morning. Our Group Captain gathered us all together and his wife drove us safely home.
As we were saying our goodbyes, a photographer friend of Adrian's called Richard was so impressed by my war record, that he asked for my phone number. He said he would like to take myself and my wife one day to RAF Coningsby as his guest to look around the Battle of Britain Memorial Flight.
It was a very good night out, all thanks to my friend the Group Captain. My only disappointment was the Lincolnshire Echo, which usually has a good track record of covering these sort of events, did not send anyone to cover this dinner.
W/O Harry Parkins retired.
---
Lincolnshire ~ Harry Parkins
---
(c) Keith Parkins 2009 -- September 2009 rev 3 / Photos (c) Adrian Hill 2009