Kylie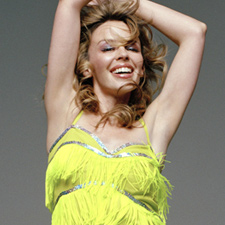 There can be few artists and performers who are known by, instantly recognisable the world over by, a single name – Yanni, Vangelis, Sting, Elvis, Madonna – and then there is Kylie, Kylie Minogue.
Kylie used to be in a crap Australian soap called Neighbours, that for some reason was deemed worthy of export, maybe it was thought bad enough, and so it found its way to the shores of the UK. As was Jason Donovan. They both left Neighbours and teemed up as a pop duo. They were rubbish, and produced some truly awful stuff. They split, Jason Donovan disappeared from sight, thankfully. Kylie continued to produce rubbish, was for a while successful, then she too thankfully disappeared from sight.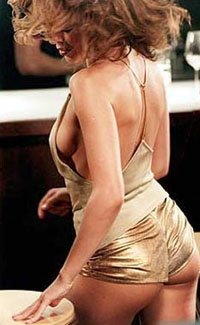 But this story does not end there. Kylie reappeared, had reinvented herself, and once again became an overnight pop sensation, only this time to critical acclaim. The only female pop star to successfully reinvent herself in this way has been Madonna.
If you have nothing else by Kylie, an absolute must is Kylie Live in Sydney, available on DVD. No collection is complete without it. This is one amazing concert. For some reason the DVD in the opening credits is called On a Night Like This. An absolutely stunning performance by Kylie, a line up of very good musician, two stunning black female vocalists, who whenever I see them they remind me of my sexy Senegalese friend Marianne, and a troupe of sensual dancers.
There are not many concerts that are truly spine chilling and leave you breathless, Kylie Live in Sydney is one such concert.
Kylie played to the biggest audience of her career at the 2000 Sydney Olympics, where she performed a cover version of the ABBA hit 'Dancing Queen' and her then-current single, 'On A Night Like This'. She also performs 'On A Night Like This' in the concert On a Night Like This, on DVD as Kylie Live in Sydney.
Kylie has a brief cameo appearance in the film Moulin Rouge!, where she plays the part of Absinthe, the Green Fairy, singing a line from The Sound of Music. Kylie also recorded a cover version of the Olivier Newton-John hit 'Physical' for Moulin Rouge!, sadly the song was not included. It can however be found on Kylie Live in Sydney.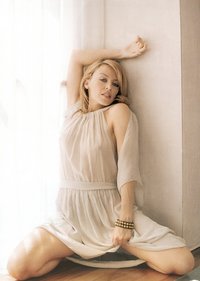 Kylie has cited Olivia Newton-John as her first major influence.
Many pop icons, Elvis and Frank Sinatra for example, even Madonna, have moved into films. Kylie has not, all the more surprising considering she was a successful actress before moving into music. Apart from a brief cameo appearance in Moulin Rouge!, she did star in Sample People, an awful low budget Australian 'pulp fiction' film, looking at the dark side of the Australian rave scene – music, drugs, sex and violence. If it had not been for the starring role of Kylie, Sample People would have sunk without trace.
Kylie is often compared with Madonna, but it is an unfair comparison for both artists. Madonna is the only female artist to have had more hits than Kylie. In the United Kingdom, Kylie and Madonna are the only female artists to have achieved number one singles in the 1980s, the 1990s and 2000s.
Kylie won Best Dance Recording Grammy in 2004 for the single 'Come Into My World', against competition from Madonna and Cher. She had been nominated in the same category in 2003 for 'Love At First Sight'. In November 2004, 'Slow' was nominated for a Grammy Award for Best Dance Recording.
Kylie has been nominated as Best International Female at the Brit Awards 2004. This is the sixth time that Kylie has been nominated for Best International Female which she won in 2002 along with the Best International Album award for Fever.
---
Directed by Baz Luhrmann the musical Moulin Rouge! co-stars Nicole Kidman and Ewan McGregor. Set in a Paris nightclub in 1900, it sets new standards for musicals. The visual effects and the music are breathtaking. One scene worthy of note is La Tango Roxane.
The film Moulin Rouge! is absolutely brilliant. Brilliant production, excellent music. The Tango scene La Tango Roxane, which merges into the Sting classic 'Roxane', is an amazing portrayal of the Tango scene as it would have been in a seedy working class brothel in Argentina in 1900, the sexuality, the undertones of violence.
Baz Luhrmann also applies his magical touch to Shakespeare's Romeo and Juliet, co-staring Leonardo DiCaprio and Claire Danes. Set in Verona Beach in the modern day rather than Verona, it features violence between two warring street gangs. All in Shakespearean/Elizabethan English retaining the original text. The one criticism I have, and it is not of the film itself, but the DVD, is that the DVD tries to install software on a computer which is wholly unacceptable.
Olivier Newton-John co-starred with John Travolta in Grease, music by Barry Gibb (of Bee Gees). John Travolta also stars in Saturday Night Fever, music by the Bee Gees. Saturday Night Fever, gritty realism, dead beat kids in a rough neighbourhood of New York, their only highlight, the Saturday night disco, excellent music. Grease, was released to follow up the success of Saturday Night Fever, but in comparison, it is a so-so, mediocre musical. Both films produced by Robert Stigwood. The two films have become latter-day cult classics, the music has become disco classics, cf music by Abba.
Sample People, is an awful low budget Australian 'pulp fiction' film, journeying through the dark side of the Australian rave scene – music, drugs, sex and violence. There may be worse films, but it is difficult to imagine anything could be worse than Sample People. The opening scene is one of sickening, gratuitous violence, which sets the scene for the rest of the film. The question is, why did Kylie choose to be in such a bad film? The rest of the cast are unknown, and deserve to remain unknown.
---
Music
---
(c) Keith Parkins 2005 -- January 2005 rev 0