Moulin Rouge!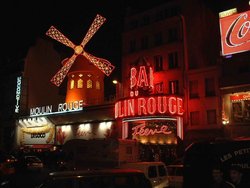 Moulin Rouge (French for red mill) was a traditional cabaret or night club, located in the red-light district of Pigalle on Boulevard de Clichy in the 18th arrondissement, near Montmartre, Paris, France.
Moulin Rouge is famous for the large red fake windmill on its roof.
The Moulin Rouge has spawned many imitations across the worldwide. One such was The Windmill in London's Soho, the heart of the red-light district.
The Windmill offered risque entertainment. It managed to survive two World Wars, but finally went out of business when the flashing of a shapely girl's legs, with the hint of more on offer, was exceeded by far more sexually explicit offerings in Soho.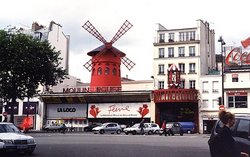 Moulin Rouge was the title of a book by Pierre La Mure, that formed the basis for the 1952 movie of the same name.
Moulin Rouge!, directed by Baz Luhrmann, starring Nicole Kidman and Ewan McGregor, is the title of the latest in a long line of films of Moulin Rouge.
Directed by Baz Luhrmann, the musical Moulin Rouge! co-stars Nicole Kidman and Ewan McGregor. Set in the Paris nightclub in 1900, it sets new standards for musicals. The visual effects and the music are breathtaking. One scene worthy of note is La Tango Roxane.
The film Moulin Rouge! is absolutely brilliant. Brilliant production, excellent music. The Tango scene La Tango Roxane, which merges into the Sting classic 'Roxane', is an amazing portrayal of the Tango scene as it would have been in a seedy working class brothel in Argentina in 1900, the sexuality, the undertones of violence.
In Moulin Rouge! .... describes Moulin Rouge as ......
A contemporary account by Andrey Bely written in 1906 in letter to Alexander Blok about the Tavern of Hell at Moulin Rouge, where lackeys were dressed as devils:
Sometimes I would venture from my sepulchre to the jazz of night Paris, where having gathered the colours, I would think them over in front of the fire. I could be seen walking through a funereal corridor of my house and descending down a black spiral of steep stairs; rushing underground to Montmartre, all impatience to see the fiery rubies of the Moulin Rouge cross. I wondered thereabouts, then bought a ticket to watch frenzied delirium of feathers, vulgar painted lips and eyelashes of black and blue.

Naked feet, and thighs, and arms, and breasts were being flung on me from bloody-red foam of translucent clothes. The tuxedoed goatees and crooked noses in white vests and toppers would line the hall, with their hands posed on canes. Then I found myself in a pub, where the liqueurs were served on a coffin (not a table) by the nickering devil: "Drink it, you wretched!" Having drunk, I returned under the black sky split by the flaming vanes, which the radiant needles of my eyelashes cross-hatched. In front of my nose a stream of bowler hats and black veils was still pulsing, foamy with bluish green and warm orange of feathers worn by the night beauties: to me they were all one, as I had to narrow my eyes for insupportable radiance of electric lamps, whose hectic fires would be dancing beneath my nervous eyelids for many a night to come.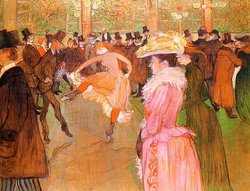 In the opening scenes, we are warned away from the red-light district, our hero is warned by his father of the dangers of Moulin Rouge.
Henri de Toulouse-Lautrec, one of the Bohemians who together with our fictional heroes transformed Moulin Rouge into a theatre for the staging of a musical spectacular, painted numerous posters and scenes of night life at the Moulin Rouge.
There are strong hints of Cabaret, Romeo and Juliet, La Bohème, the tragedies of Emile Zola.
The diamond necklace worn by our heroine, made of platinum and diamonds, was valued at over a million dollars!
Moulin Rouge! won Academy Awards for Best Art Direction-Set Decoration and Best Costume Design, and was nominated for Best Actress in a Leading Role (Nicole Kidman), Best Cinematography, Best Editing, Best Makeup, Best Picture and Best Sound.
Kylie has a brief cameo appearance in the film Moulin Rouge!, where she plays the part of Absinthe, the Green Fairy, singing a line from The Sound of Music. Kylie also recorded a cover version of the Olivier Newton-John hit 'Physical' for Moulin Rouge!, sadly the song was not included. It can however be found on Kylie Live in Sydney.
---
Baz Luhrmann also applies his magical touch to Shakespeare's Romeo and Juliet, co-staring Leonardo DiCaprio and Claire Danes. Set in Verona Beach in the modern day rather than Verona, it features violence between two warring street gangs. All in Shakespearean/Elizabethan English retaining the original text. The one criticism I have, and it is not of the film itself, but the DVD, is that the DVD tries to install software on a computer which is wholly unacceptable.
Tango is a ballroom dance that evolved around 1880 in the lower class district of Buenos Aires from a fusion of Spanish tango and milonga, a fast and sensual Argentine dance form.
Kylie Live in Sydney, available on DVD, is a must have, no collection is complete without it. This is one amazing concert. An absolutely stunning performance by Kylie, a line up of very good musician, two stunning black female vocalists, who whenever I see them they remind me of my sexy Senegalese friend Marianne, and a troupe of sensual dancers. There are few concerts that are truly spine chilling and leave you breathless, Kylie Live in Sydney is one such concert.
Great Windmill Street in the red-light district of Soho was once a footpath which crossed Windmill Field to a windmill, the site of which became The Windmill Theatre, later The Windmill Club. Thus, was the Moulin Rouge in Paris, named after The Windmill Theatre in Soho, and not the other way around? The motto of The Windmill Theatre was 'We Never Close', but eventually it did close, although it managed to remain open during the war years. Due to a quirk in the law, it had as one of its attraction, nude women, as they were allowed to display all their wares, provided they did not move, as they could then be regarded as 'objects of art' and not indulging in acts of 'obscenity'. Pictures and postcards and posters of the 'Windmill Girls' and other memorabilia, become much sought after collectors items, the soft porn of its day. Many well-known comedians and actors, got their first break at the Windmill. A good source of information on the Windmill Theatre is the Arthur Lloyd website.
---
Music ~ Chicago ~ Dirty Dancing
---
(c) Keith Parkins 2005 -- January 2005 rev 0