Live 8 - the politics and background
I will not accept any more people dying on my TV in my sitting room every night. -- Bob Geldof
People are realising that there is a constituency in the world at large to do something about Africa. -- Sting
The threat of Geldof works and I'm going to be part of it. -- Sting
If we can get the domestic heat to such a level in the UK, Germany, France, Italy, Japan, Canada and the US, it's just possible that we can reach down the ladder and say to those dudes (the African people) "Let's give you a hand up. I'm going to do it - I need you to be with me." -- Bob Geldof
I would like to be somewhere else or doing something else - there is no part of this I like. -- Bob Geldof
This is not wide-eyed, misty-eyed Irish nonsense - these are achievable goals. I am excited by that. That is what turns me on. -- Bono
The concert will raise awareness of the problems in Africa and will make people think about humanity. -- Bob Geldof
While Live Aid was about raising money, Live 8 is different. It's about putting pressure on world leaders to end extreme poverty once and for all. It would take the G8 world leaders moments to solve this problem. We know what it costs. In the global economic scale, it is absolutely nothing. It just has to be done. -- Bob Geldof
This is going to be a defining moment for a generation. This is our shot at doing something all of us might be remembered for long after we're gone. We want to end extreme, stupid poverty in our lifetime. We want to show that this generation has a heart - but, more importantly, has a mind to put things right. -- Bono
History and generations to come will judge our leaders by the decisions they make in the coming weeks. We urge them to save the lives of our children - let every child be a healthy child. We know what to do and what it will cost. We now need leadership, vision and political courage. -- Nelson Mandela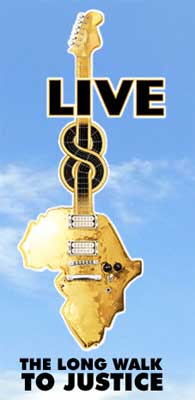 Live 8, a rock concert to rock the world.
Can a handful of musicians armed with guitars rock the world to its bedrock, to its very socio-economic foundations? If not, then who can?
Live 8, a series of free concerts planned for 2 July 2005 in each of the G8 nations. Timed to coincide with and put pressure on the G8 Conference at Gleneagles, Scotland.
Live 8 will be the world's biggest ever media event. It is to put pressure on the G8, but will they listen? The G8 will be cowering in their bunkers at Gleneagles, so afraid of protesters that they will not let them pass before their venue, denying protesters their democratic right to be heard. But as former Scottish Member of Parliament George Galloway has said, this right is not negotiable: 'We are marching at Gleneagles, that is not negotiable.'
The authorities were eventually forced to back down, agreeing to allow protesters within 500 metres of Gleneagles. At the last minute, this concession was withdrawn, but when protesters said they'd shut down Edinburgh that night in protest at the denial of their right to protest, the police relented, and the protest was finally allowed to go ahead.
BBC will take the live feed from Live 8, it will then be available worldwide via TV, radio, satellite, the net, mobile phone. Will the net be able to cope?
Following on the Jubilee 2000 and Drop the Debt campaign, millennium goals were agreed on debt and development. At the present rate of progress, these goals were not being met, were not likely to be met.
To put pressure on G8 and to coincide with the UK hosting the G8 summit and assuming the presidency of the EU, Make Poverty History was launched to pressure world leaders to drop the debt of the world's poorest nations, increase and improve aid, and negotiate fairer trade rules.
To increase that pressure, to raise awareness, and to reinforce the call for a million people on the streets of Edinburgh, Bob Geldof launched Live 8, a series of eight rock concerts in each of the G8 countries. Sail 8, a modern-day Dunkirk, was to bring them across from France.
Sail 8 coincided with one of the largest peace-time gatherings of ships in the Solent off the coast of Portsmouth. This was for an international review of the fleet, followed by a re-enactment of the Battle of Trafalgar.
The Battle of Trafalgar, one of the greatest sea battles in maritime history, was when the English fleet, under the command of Admiral Horatio Nelson, defeated the French and Spanish fleets. It was somewhat fitting therefore that Make Poverty History was launched in Trafalgar Square. Having defeated the French and Spanish, now, 200 years later, was the time to defeat poverty.
Bono has called for people to descend on Gleneagles, where the G8 summit will be hosted.
Even Cormac Murphy-O'Connor, Cardinal Archbishop of Westminster, will be joining the protesters on the street.
Unlike Live Aid, of which Live 8 was on the twentieth anniversary, Live 8 is not a fund raising event, it is to raise awareness, and what better way to do so than series of rock concerts featuring the world's best performers. What better way to pull in a world audience.
To date, the most televised event has been Live Aid, twenty years before.
The premier event is to be the concert in London's Hyde Park.
Tickets were made available for the Hyde Park concert by a text lottery. 1.5 million text messages were sent in the first 9 hours, nearly 1 million in the first 2 hours. In total 2,060,285 text messages were sent. At £1-50 per text message, this raised over £3 million pounds. The first £1.6 million will go to the Prince's Trust, then to cover the expenses of Live 8, then anything left to the Band Aid Trust, a trust established to handle the funds raised by Band Aid and Live Aid.
Pink Floyd announced they would reform for Live 8. There were even hints the Spice Girls would reform, but Mel B put the spanner in the works. Sting has even re-written the words of 'Every Breath You Take' for the Hyde Park Live 8 concert.
Acts lined up included (full list on BBC):
London - U2, Paul McCartney, Coldplay, Elton John, Annie Lennox, Dido, Stereophonics, REM, Bob Geldof, Travis, Madonna, Sting, Mariah Carey, Robbie Williams, Pink Floyd, The Who
Paris - Dido, Craig David, Shakira
Berlin - Crosby, Stills and Nash, Lauryn Hill, Roxy Music, Brian Wilson (ex-Beach Boys)
Rome - Faith Hill
Philadelphia - Dave Matthews Band, Stevie Wonder, Sarah McLachlan, Alicia Keys, Bon Jovi, Destiny's Child
Midge Ure announced a further concert in Edinburgh to coincide with the first day of the G8 summit. Line-up included Annie Lennox, Dido and soul singer James Brown. It was hoped to include African artists. Tickets for the Murrayfield concert were available by text lottery as the Hyde Park concert.
The Murrayfield concert is being billed as the Celtic Live 8, it was therefore appropriate that one of the best acts ever to come out of Ireland, The Corrs were added to the line-up.
Further concerts were announced for Johannesburg (hosted by Nelson Mandela), Tokyo (featuring Bjork), Toronto, and the Eden Project in Cornwall (southwest England) announced an African line-up.
The Johannesburg Live 8 concert, hosted by Nelson Mandela - called Standing Tall Against Poverty - will feature African stars such as Zola, Mali's Oumou Sangare and Senegal's Orchestra Baobab. Designed to draw attention to poverty in Africa, it will feature a satellite link-up with the Live 8 concerts taking place across the world the same day. Further concerts are planned for Kenya and Ghana later in the year.
The Tokyo concert, featuring Icelandic singer Bjork, will take place at the 20,000-capacity Makuhari Messe. Tokyo, at 1400 local time (0300 GMT, 0400 BST), will be the first Live 8 venue to go live.
The Eden Project, with the help of former Genesis front-man Peter Gabriel and his world music organisation Womad, will stage Africa Calling, featuring such artists as Youssou N'Dour, Angelique Kidjo, Maryam Mursal, Salif Keita and Thomas Mapfumo.
Toronto will feature Bryan Adams, Deep Purple, Celine Dion (via satellite from Las Vegas), Neil Young and rumours of the Rolling Stones. The 35,000 tickets for the Canadian concert were distributed in just 20 minutes!
This now covers all the G8 countries bar Russia. At least that was the situation until the week leading up to Live 8 when it was announced that there would be a concert in Moscow's Red Square.
Even before the first chord was struck at Live 8, it was a stunning success when it was announced by the G7 finance ministers meeting in London that they would write-off debt for 18 of the world's poorest countries, manly in sub-Saharan Africa, with the possibility of 20 more countries to be included at a later date.
This was a step in the right direction, now what was needed was for G8 to substantially increase aid and to reform the world trade rules. Only then would the Make Poverty History goals be met.
But a cautionary note: Debt write-off is not acceptable if it means a neo-liberal globalisation agenda, privatisation. Aid has to be real aid, the money actually spent in the aided country, not siphoned off by consultants and other carpetbaggers.
The conditions on privatisation have the potential to return more to the rich West than they are writing off as debt cancellation, which no doubt is why they are being imposed.
Keith Parkins, Debt cancellation, Indymedia UK, 13 June 2005
Noreena Hertz, IOU: The Debt Threat and Why We Must Defuse It, Fourth Estate, 2004
Real Aid: And Agenda for Making Aid Work, Action Aid International, June 2005
The economics of failure: The real cost of 'free' trade for poor countries, Christian Aid, June 2005
George Monbiot:
The G8's plan for saving Africa is little better than an extortion racket. Do you still believe our newly-sanctified leaders have earned their halos? If so, you have swallowed a truckload of nonsense. Yes, they should cancel the debt. But they should cancel it unconditionally.
On the day the G7 finance ministers wrote-off debt for more than a dozen poor countries, albeit with unacceptable conditions attached, Nelson Mandela at an AIDS/HIV rock concert organised in his name in the high Arctic Norwegian city of Tromsoe urged G8 leaders to show 'leadership, vision and political courage'.
The Mandela 46664 concert - named after his prison number - was thought to have attracted 15,000 people.
Within hours of the tickets for the Hyde Park concert being released these were being sold on eBay. A concert to raise awareness of poverty and scumbags were already making money off the back of it.
At first, eBay, when asked to remove the tickets for sale, point-blank refused, earning themselves the name of 'electronic pimps', but within hours they were forced to back down, but the damage had already been done to what little reputation eBay had left.
Bob Geldof:
I am sick with this. It is a disgrace. It is completely against the interests of the poor. The people who are selling these tickets on websites are miserable wretches who are capitalising on people's misery. I am appealing to their sense of decency to stop this disgusting greed.

There's nothing illegal about what they're doing unfortunately but there is something wrong with it and everyone in this entire country knows why it's wrong. It is not acceptable is that a giant electronic company that makes billions upon billions then morally says we will just hand over our take to a charity. It is filthy money made on the back of the poorest people on the planet. Stick it where it belongs.
eBay is rapidly becoming the place for crooks to shift their dodgy goods. Dodgy goods are no longer shifted in pubs, off the back of a lorry, or down the car boot market, they are shifted on eBay. And as buyers find to their cost, eBay has no legal responsibility to act to either recover the money or compensate the buyer. [see You and Yours BBC Radio 4 Wednesday 15 June 2005]
eBay should have immediately acted to remove the Live 8 Tickets from sale, banned from eBay those selling and buying the tickets, and eBay make a substantial donation to the Band Aid Trust, of at least 100 times the bid price for the tickets.
Geldof asked people to lodge hoax bids. Many did, to express their disgust. eBay promptly barred those who had posted the hoax bids, but did nothing about those who were buying and selling the Live 8 tickets.
A day after banning those who had posted hoax bids, eBay was once again forced by public pressure to back down and was forced to reinstate those whose accounts it had suspended.
But eBay does not seem to learn. They went through the same exercise again with tickets for the Murrayfield concert.
Live 8 was not without its criticisms: it was 'hideously white', it was 'ego tripping', it was a distraction etc, etc. [see Bob Geldof and Live 8]
Much of the criticism was trivial and spiteful. Inspired more by jealousy than constructive criticism.
The failure to include musicians from Black Africa was not an oversight. This was an event to attract a world audience, awareness raising. This was only possible with rock stars who had withstood the test of time and were known the world over. Was Stevie Wonder white?
It was for Black Africa to showcase the best of Black Africa which later they did with a concert in Johannesburg and Peter Gabriel and Womad joined forces with the Eden Project to present Africa Calling. Midge Ure added a concert in Edinburgh to coincide with the opening day of G8 featuring African artists.
That it distracted from the G8 meeting and protests had some merit, that is until Bob Geldof called for a million people on the streets, a call repeated at the Hay Literary Festival and again at Glastonbury. A call repeated by Bono when he called for people to head for Gleneagles where the summit was taking place. The the Rt Rev Martin Shaw, Bishop of Argyll and the Isles, said there had been a lot of scaremongering about the protest and called for 2 million people!
This generated even further criticism. No one quite dared suggest it was wrong to protest as that would have hit at the core of democratic rights, instead it was that we are concerned for people's safety, concerned that people would have nowhere to stay.
Convergence 2005 has arranged a temporary eco-village outside Stirling.
Members of Parliament jumped on the bandwagon set in train by their Scottish colleagues and lined up to slag-off Bob Geldof.
What right had rock stars anyway to meddle in politics. What right indeed. What right has politicians who represent no one but themselves. What they fear most is a people's revolt. Understand the rules, cast your vote then sink back into apathy and leave it to your betters to rule your life. [see A sense of the masses - a manifesto for the new revolution]
The most pathetic criticism of all came from David Steel, former Leader of the Liberal Party and past presiding officer of the much maligned Scottish Parliament, when, in a letter to The Times, he engaged in childish name-calling. Steel accused Geldof of being 'on an ego trip', he then went on to criticise his 'disheveled' appearance, use of 'swear words' and 'populist antics', that the protests in Edinburgh were 'an extended ego trip' and 'in danger of becoming a media circus'.
A day later, David Steel was forced to back down. He even went so far as to offer his palatial home, Aikwood Tower, as somewhere for protesters to doss down.
Former overseas development minister Clare Short then jumped on the 'let's kick Bob Geldof' bandwagon. She attacked Geldof and questioned how Geldof's Live 8 concert would help eliminate African poverty. This from a former Secretary of State who was an unmitigated disaster for African poor, who took every opportunity to push a neo-liberal globalisation agenda.
Clare Short: 'People will enjoy the concerts because there are famous bands but quite how the concerts are going to eliminate poverty in the world is not clear.'
One of the 'successes' chalked up by Clare Short whilst in charge of the UK's overseas development department, was Vision 2020, a 'poverty alleviation' scheme that resulted in 23 million farmers being forced off their land into the overcrowded cities of southern India.
Obviously she had not got the message as to the purpose of either Live 8 or Make Poverty History, anymore than she had got the message that globalisation was destroying the lives of the world's poorest people.
George Monbiot, who should have known better, writing in The Guardian, and Andy Kershaw, who also should have known better, writing in The Independent, added their criticisms.
The only justifiable criticism was when rumours began to surface that Coca-Cola was to sponsor Live 8. When the whole philosophy of Make Poverty History was that the neo-liberal, globalisation agenda had failed the poor, it could not have been possible to have sought a more inappropriate sponsor, unless McDonald's had been sought. And it begged the question: why bring in at all big business sponsors?
An event of the scale of Live 8 is bound to attract some undesirable characters. Legitimate question have been raised as to the murky world of Make Poverty History and of some of the dodgy characters associated with Live 8.
But even if all the Make Poverty History targets are met, it will all be for naught if we fail to deal with Climate Change. [see Andrew Simms, Africa:Up in Smoke?, The Working Group on Climate Change and Development, June 2005]
And nothing will happen at all if people remain silent and fail to call for change, to demand accountability.
At the end of June, the week before Live 8, Geldof addressed the Glastonbury Festival from the main stage:
I want you to individually believe you change the condition of the most put-upon and beaten-down people on this planet.

I want you to grab the hand of the person beside you.

Not as some big hippy rock festival thing, but because you want this to happen. Lift your hands and say together, 'make poverty history'.
Only history will tell if Live 8 was a success, if thousands of the world's poorest people continue to die every day because nobody cares, if we stay silent and let the strong exploit the weak.
At the end of the day, what happens depends on all of us.
To make sure your voice counts, please ensure you sign the Live 8 petition to the G8.
But even if all the Make Poverty History targets are met, it will all be for naught if we fail to deal with Climate Change. [see Africa: Up in Smoke?]
---
Music ~ Bob Geldof ~ Live 8 ~ Live 8 - the concerts
---
(c) Keith Parkins 2005 -- July 2005 rev 2